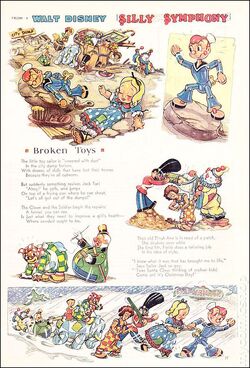 Broken Toys is a Christmas-themed Silly Symphony short produced by Walt Disney Productions and originally released by United Artists on December 14, 1935.
Summary
In the pile of overused and broken toys, a discarded sailor doll gives the other toys, including an Aunt Jemima and Stepin Fetchit doll, a plan on how they can be repaired and bring happiness to others during Christmas.
Notes
Edit: When the short is shown on The Disney Channel, due to racism, all black & Chinese dolls have been removed.
Cast
All uncredited.
Voice actress/actor
Character(s)
Alyce Ardell
Sara Berner
Girl Doll
Zasu Pitts Doll
Tommy Bupp
Sailor Doll
Pinto Colvig
W.C. Fields Doll
Various
Lillian Randolph
Mammy Doll
Jesús Topete
Danny Webb
Stepin Fetchit Doll
External link
Community content is available under
CC-BY-SA
unless otherwise noted.