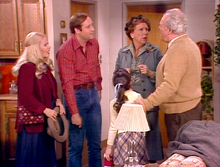 "California, Here We Are" is the two part seventh and final Christmas episode of the CBS sitcom All in the Family, aired in the show's ninth and final season.
Synopsis
Part 1
Archie, Edith and Stephanie arrive in Santa Barbara to spend Christmas with the Stivics but the happiness they are greeted with is merely an illusion, as Mike and Gloria try to hide the major change in their personal lives to avoid ruining the holiday.
Part 2
Unable to keep up appearances any longer, Gloria finally tells Edith in the middle of the night that she and Mike have separated because she feels neglected and has been seeing another man. While Archie expresses his outrage and tells Mike he is too good for Gloria, Edith is determined to do all she can to help the Stivics save their marriage.
See also
Community content is available under
CC-BY-SA
unless otherwise noted.