Wiki Targeted (Entertainment)
Play Sound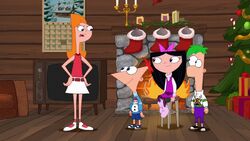 Candace Gertrude Flynn is one of the main characters from the Disney Channel animated series Phineas and Ferb. She is the 15-year old sister of Phineas and Ferb who is constantly trying, but never succeeding, to get her brothers in trouble for their daily activities.
Appearances in Christmas specials
In "A Phineas and Ferb Family Christmas", Candace takes notice of Phineas and Ferb trying to make a family-oriented Christmas special in the middle of summer. Seeing that it is being broadcast live on TV, she tries to get Linda to see it, but as expected, she fails at this. Later, however, Candace participates in singing "We Wish You a Merry Christmas" with them and admits to have enjoyed herself.
In Phineas and Ferb Christmas Vacation! (which was made before "A Phineas and Ferb Family Christmas" but takes place later chronologically), Candace is having trouble trying to think of the perfect Christmas gift for her boyfriend, Jeremy Johnson, and worries that he won't like her as much if her gift for him isn't perfect. When she sees that her brothers have already written their letters to Santa, she initially scoffs at that idea, but decides that if she can get Jeremy to write a letter to Santa, she'll be able to find out what he really wants. However, while she does convince him to write the letter, she never gets to read it, and when she tries to ask him to do some last-minute window-shopping with her, her attempt to explain that she wants to know his Christmas desire only confuses him. Additionally, when Danville is branded naughty and everyone's letters to Santa are returned, Candace initially blames Phineas for it, on account of he and Ferb spent the summer getting everyone in the city involved in their big ideas. Later, though, she agrees to help her brothers and their friends save Christmas for Danville, with her task being to keep track of who gets which present. During this, she gets a look at Jeremy's wish list and, to her relief and delight, finds that she has already picked up the present he really wants. After returning from the sleigh trip, Candace runs into Jeremy and gives him the silver electric guitar he had been wanting, receiving in return a pair of earring she'd been wanting. Later, during the end credits, we see that she receives two new pairs of her standard outfit from Santa.
External links