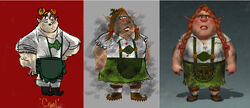 Carol is a character who appears in Prep & Landing: Naughty vs. Nice, voiced by Grace Potter.
Biography from the official website
Before she purchased the old coal elf building & loan structure and converted it into Christmas Carol's, not much is known about Carol. Some elves say she was once part of the Coal Elf Brigade. Some say she arrived at the North Pole having fled her distant homeland due to a doomed romance. Whatever her true past, no one dares to ask her.
Likes: Good tippers.
Dislikes: Bad reviews. Particularly ones containing the phrase, "This is one Carol you won't be singing about." There've been a few.
Random Facts: Carol is able to wrangle and hogtie any reindeer in 15 seconds or less. Even Thrasher.
Favorite Christmas Cookie: The Norwegian waffle cookie, Krumkake.
External links
Community content is available under
CC-BY-SA
unless otherwise noted.