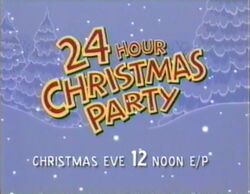 Since its debut in 1992, Cartoon Network has always hosted an annual Christmas-themed programming block featuring the animated Christmas specials, episodes, and movies that the channel has the broadcast rights to. Originally titled the Christmas Party, the block has since gone through several different iterations and name changes:
Christmas Party (1997-2003)
A Cartoon Christmas (2003)
A Cartoon Network Christmas (2004)
Cartoon Network's Holiday Rush (2005-06)
All-Star Naughty List (2007)
It's The Special Holiday Cartoon Network Holiday Specials (2008-09)
Christmas Special Week (2012)
Gift Time (2013)
Specials featured on the blocks
Cartoon Network's Christmas blocks initially consisted entirely of Christmas specials, primarily those produced by Hanna-Barbera, that had debuted on other networks. At the turn of the century, however, after Cartoon Network Studios had made its mark in original programming created entirely for the network, newly-made Christmas episodes of Cartoon Network original series would often debut as part of the block. Many direct-to-video Christmas specials, such as those produced by Warner Bros. Animation, would also make their televised premieres as part of Cartoon Network's Christmas block.
In the network's earlier years, the block always culminated with a special 24-hour marathon that would start on Christmas Eve and run through Christmas Day itself. This was dropped in 2003, when the Adult Swim programming block began broadcasting every weeknight.
After 2004, Cartoon Network dropped almost all of the non-original specials (with the exception of How the Grinch Stole Christmas!) from their annual Christmas block, resulting in the block now being devoted entirely to Christmas episodes of the network's original shows. The Hanna-Barbera Christmas specials would instead now be exclusive to sister channel Boomerang, which continued to use the Christmas Party name for its annual Christmas block until its 2015 rebrand.
Premieres
2001

2003

2004

2005

2006

2007

2008

2009

2010

2011

2012

2014

2015

2016

2017
Reruns
The following specials that have aired as part of Cartoon Network's Christmas blocks are ones that either originally aired on another network or premiered on Cartoon Network outside of the programming block.
See also
Community content is available under
CC-BY-SA
unless otherwise noted.