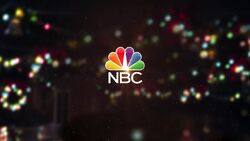 The National Broadcasting Company is an American television network and former radio network headquartered in the GE Building in New York City's Rockefeller Center with additional major offices in Burbank, California and Chicago, Illinois. It is sometimes referred to as the "Peacock Network" due to its stylized peacock logo, created originally for color broadcasts.
Categorized here are Christmas specials, episodes, and movies that were originally broadcast on NBC.
See also Category:Originally aired on USA or Syfy for specials that premiered on other networks owned by NBCUniversal.
Trending pages
All items (441)