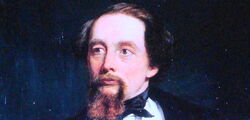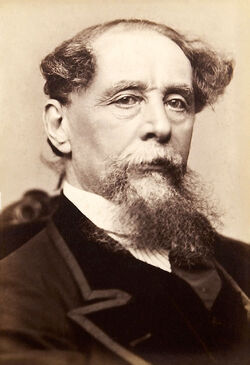 Charles Dickens (February 7, 1812 – June 9, 1870) was the foremost English novelist of the Victorian era, acclaimed for his rich storytelling and memorable characters. Dickens published over a dozen novels, a large number of short stories, a handful of plays, and several nonfiction books.
Dickens penned five Christmas-themed books -- A Christmas Carol (1843), The Chimes (1844), The Cricket on the Hearth (1845), The Battle of Life (1846), and The Haunted Man (1847). Many of these works, especially A Christmas Carol, have been adapted for stage, radio, film, television and video productions.
Appearances and references in Christmas productions
Over the years, many fictional stories with a historical basis have featured Charles Dickens as a character in them, with some more accurate than others. Many, though not all, of them focus on him as the writer of A Christmas Carol.
Dickens' appearances as a character in Christmas productions include:
The Festival of Family Classics episode "A Christmas Tree" has Dickens relating to and participating to some extent in the Christmas adventure of two young children whose family he's staying with for the season.
In The Muppet Christmas Carol, Gonzo portrays the role of Dickens as the story's narrator, though Rizzo the Rat doubts this claim.
A Flintstones Christmas Carol features a caricature named Charles Brickens, voiced by veteran actor John Rhys-Davies. He provides narration for the Bedrock Players' production of A Christmas Carol, and gets noticeably frustrated when Fred and Wilma Flintstone (playing the parts of Scrooge and Belle, respectively) completely ad-lib a scene.
The Ghosts of Dickens' Past is a 1998 film in which he was portrayed by Christopher Heyerdahl. The film tells the story of real-life events that drove Dickens to write A Christmas Carol.
In the Christmas episode of Adventures from the Book of Virtues, Charles Dickens (voiced by Jay Brazeu) appears as a spirit visiting Annie Redfeather.
The Mr. Peabody & Sherman Show featured Dickens as the subject of his own self-titled episode.
The Man Who Invented Christmas, based on the novel of the same name, is a biopic about Dickens, played by Dan Stevens, writing A Christmas Carol.
References to Dickens and/or his stories in other Christmas specials (outside of A Christmas Carol adaptations) include the following:
TV adaptations for Christmas
Over the years on British TV, particularly on the BBC, adaptations of Dickens novels are common. Famous examples include Bleak House (2005), Oliver Twist (2007), Little Dorrit (2008) and Great Expectations (2011). These predominantly featured all-star casts. The ending of the 2007 adaptation of Oliver Twist, when Oliver is reunited with the Brownlows, is set around Christmas.
External links