This article is about a future Christmas Special or episode of a television series with a Christmas theme. Information may change as the date of this program's airing nears.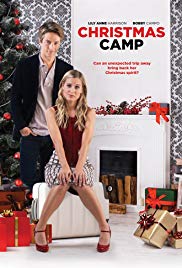 Christmas Camp is a upcoming Hallmark Movies and Mysteries book-based Christmas movie.
Plot
To get a promotion, Hayley, an advertising executive (portrayed by Lily Anne Harrison) who specializes in social media, must land a toy company that is all about traditional Christmas as an account.
Cast
Lily Anne Harrison as Haley
Bobby Campo
Ben Gavin
External links
This page about a Christmas movie is a stub. Please help The Christmas Special Wiki by expanding this article.