(16 intermediate revisions by one other user not shown)
Line 1:
Line 1:
 
+

{{Italic title}}

⚫
 
 
+

{{Title

 
+

|image=No Screenshot.png

 
+

|director=

 
+

|writer=

 
+

|release=July 11, 2019

 
+

|runtime=

 
+

|rating=

 
+

|available=}}

 
+

[[File:ChristmasCamp.jpeg|thumb|268x268px]]

 
⚫
 
 
−

==Plot==

+

====

 
+

Hayley Hanson (Lily Anne Harrison) puts her job as an advertising executive first, middle and last, with no time left over for her personal life, even during the holidays. So when she discovers that Tyler Toys, a huge prospective client, is looking for a new agency to represent them, she couldn't be more excited to put together the pitch. Haley's boss, however, worries that she won't understand how to meet the needs of a traditional toy company and threatens to take the account away unless Haley heads to Christmas Camp at Holly Peak Inn. Disconnected from her cell phone, Haley now must learn to take a breath, bond with her fellow campers, including the owner's handsome son Jeff, and give in to a picturesque retreat aimed at restoring Christmas cheer in all who attend. While the idea of completing the camp seems like just another job to her at first, Haley soon begins to discover that Christmas Camp is about so much more than what she originally thought, it's about remembering the importance of love, friendship and family, the things that make the holiday season truly special.

−

A workaholic advertising executive is sent to Christmas Boot Camp to remember what makes the holidays special, and restore her Christmas cheer.

 
 
+
 
+

==Cast==

 
+

{{S|''Subject to change''}}

 
+

{|class=wikitable

 
+

!Actress/actor!!Character

 
+

|-

 
+

|Lily Anne Harrison||Haley

 
+

|-

 
+

|Bobby Campo||Jeff

 
+

|-

 
+

|Ben Gavin||Ian

 
+

|-

 
+

|John James||Ben

 
+

|-

 
+

|Alexandra Mazzucchelli||Kathy

 
+

|-

 
+

|Talha Khan||Background

 
+

|-

 
+

|Alex Cheeks||Blake

 
+

|-

 
+

|Adriana DeMeo||Shauna

 
+

|-

 
+

|Dave Dyshuk||Ad Agency Employee

 
+

|-

 
+

|Reece Ennis||Susie

 
+

|-

 
+

|Shadner Ifrene||John

 
+

|-

 
+

|Adline Jennings||Background

 
+

|-

 
+

|Stephen Katz||Jake

 
+

|-

 
+

|Krampus||Himself

 
+

|-

 
+

|Geraldine Leer||Gail

 
+

|-

 
+

|Ignacyo Matynia||Ryan

 
+

|-

 
+

|Megan McQueen||Laura

 
+

|-

 
+

|Nick Nevinger||Inn Employee

 
+

|-

 
+

|Tomas Uhliarik||Party Attendee

 
+

|-

 
+

|Milan Williams||Madison

 
+

|}

 
+
 
+

==External links==

 
+

* {{imdb title|8354006}}

 
+
 
+

{{MovieStub}}

 
+

[[Category:2019 releases]]

 
+

[[Category:Movies]]

 
+

[[Category:Films and specials based on books]]

 
+

[[Category:Originally aired on Hallmark Movies & Mysteries]]
---
Latest revision as of 15:16, 17 November 2019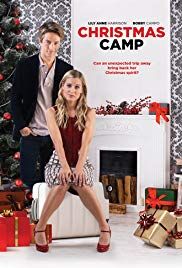 Christmas Camp is a upcoming Hallmark Movies and Mysteries book-based Christmas movie.
Summary
Hayley Hanson (Lily Anne Harrison) puts her job as an advertising executive first, middle and last, with no time left over for her personal life, even during the holidays. So when she discovers that Tyler Toys, a huge prospective client, is looking for a new agency to represent them, she couldn't be more excited to put together the pitch. Haley's boss, however, worries that she won't understand how to meet the needs of a traditional toy company and threatens to take the account away unless Haley heads to Christmas Camp at Holly Peak Inn. Disconnected from her cell phone, Haley now must learn to take a breath, bond with her fellow campers, including the owner's handsome son Jeff, and give in to a picturesque retreat aimed at restoring Christmas cheer in all who attend. While the idea of completing the camp seems like just another job to her at first, Haley soon begins to discover that Christmas Camp is about so much more than what she originally thought, it's about remembering the importance of love, friendship and family, the things that make the holiday season truly special.
Cast
Subject to change
| Actress/actor | Character |
| --- | --- |
| Lily Anne Harrison | Haley |
| Bobby Campo | Jeff |
| Ben Gavin | Ian |
| John James | Ben |
| Alexandra Mazzucchelli | Kathy |
| Talha Khan | Background |
| Alex Cheeks | Blake |
| Adriana DeMeo | Shauna |
| Dave Dyshuk | Ad Agency Employee |
| Reece Ennis | Susie |
| Shadner Ifrene | John |
| Adline Jennings | Background |
| Stephen Katz | Jake |
| Krampus | Himself |
| Geraldine Leer | Gail |
| Ignacyo Matynia | Ryan |
| Megan McQueen | Laura |
| Nick Nevinger | Inn Employee |
| Tomas Uhliarik | Party Attendee |
| Milan Williams | Madison |
External links
This page about a Christmas movie is a stub. Please help The Christmas Special Wiki by expanding this article.
Community content is available under
CC-BY-SA
unless otherwise noted.