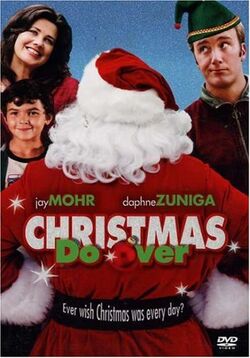 Christmas Do-Over is a made-for-TV movie starring Jay Mohr and Daphne Zuniga. It premiered on ABC Family on December 16, 2006, as part of their 25 Days of Christmas programming block. It is an adaptation of the short story Christmas Every Day (previously adapted as the channel's first Christmas-themed movie), but with an adult as the protagonist.
Synopsis
A man named Kevin (Jay Mohr) has to repeat Christmas Day over and over until he realizes how selfish he has become and changes his ways.
Cast
External links
This page about a Christmas movie is a stub. Please help The Christmas Special Wiki by expanding this article.