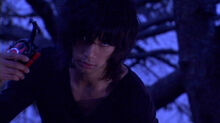 Christmas Earthquake (Xマス激震 Kurisumasu Gekishin) is the forty-fifth episode of Kamen Rider Kabuto.
Plot
The Worm Souji returns to the real world to destroy everyone and everything, including Hiyori. Tsurugi and Misaki prepare for their first date, but while on their date, Tsurugi becomes Scorpio Worm. Souji and Arata prepare themselves for the approaching battle with Dark Kabuto.
Community content is available under
CC-BY-SA
unless otherwise noted.