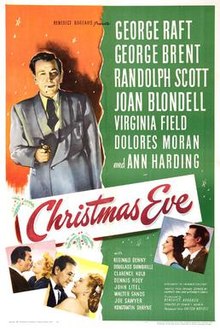 Christmas Eve (also known as Sinner's Holiday on its 1950 re-release) is a 1947 theatrical Christmas comedy film directed by Edwin L. Marin, based on the story by Richard H. Landau, starred George Raft, George Brent and Randolph Scott, and originally released by United Artists on Halloween 1947.
Plot
The greedy nephew Philip Hasting (Reginald Denny) of eccentric Matilda Reid (Ann Harding) seeks to have her judged incompetent so he can administer her wealth; In an informal meeting with Philip, the doctor, Dr. Doremus, and the judge Alston they convene that she will be saved if her three long-lost adopted sons appear for a Christmas Eve reunion, as any of them is the one she could trust, but not Philip. Later on it is revealed that Philip did some very illegal things with her money, but she doesn't claim anything.
Separate stories reveal with the help of Private Detective Gimlet (Joe Sawyer) that
Michael (George Brent) is a bankrupt playboy loved by loyal Ann Nelson (Joan Blondell);
Mario (George Raft) is a seemingly shady character tangling with a Nazi war criminal in South America and a beautiful lady, Jean Bradford (Dolores Moran);
Jonathan (Randolph Scott) is a hard-drinking rodeo rider who falls for a flirtatious woman Claire (Virginia Field) at the station, who is revealed to be a policewoman in disguise chasing after an orphanage that doesn't seem to do right.
Finally the gathering at the Christmas Eve happened and the couple Johnatan-Claire bring the three girl orphans from the orphanage. Aunt Matilda feels like the day she got the three little boys for adoption.
Cast
Ann Harding as Aunt Matilda Reed
Reginald Denny as Phillip Hastings
Clarence Kolb as Judge Alston
Carl Harbord as Dr. Doremus
Joe Sawyer as Private Detective Gimlet
George Raft as Mario Torio
George Brent as Michael Brooks
Randolph Scott as Jonathan ´Johnny´
Joan Blondell as Ann Nelson
Virginia Field as Claire
Dolores Moran as Jean Bradford
Douglass Dumbrille as Dr. Bunyan
Claire Whitney as Mrs. Bunyan
John Litel as Joe Bland, FBI Agent
Marie Blake as Reporter
Dennis Hoey as Williams-Butler
Molly Lamont as Harriet Rhodes
Walter Sande as Mario's Hood
Konstantin Shayne as Gustav Reichman
Andrew Tombes as Auctioneer
This page currently does not have a picture. Please help the Christmas Special Wiki by adding one.
This page about a Christmas movie is a stub. Please help The Christmas Special Wiki by expanding this article.
Community content is available under
CC-BY-SA
unless otherwise noted.