Christmas in Canaan is a Hallmark Channel movie, starring Billy Ray Cyrus, Jaishon Fisher and Zak Ludwig, and based on the book of the same name by Kenny Rogers and Donald Davenport, the latter of whom also wrote the teleplay, that was originally premiered on December 12, 2009, as part of the channel's first annual Countdown to Christmas event.
Summary
DJ and Rodney don't like each other from the start. Rodney thinks DJ is an ignorant white farm boy, and DJ thinks Rodney acts too smart for his own good. After a school bus scuffle between the two, DJ's father and Rodney's grandmother come up with a clever solution that brings the boys closer than either of them would like. Living in Canaan, Texas in the 1960s does not make it easy for a black boy and a white boy to forge a friendship. It is only amid the magic of an unforgettable Christmas that DJ and Rodney discover a land of milk and honey where hope and love make all the difference.
Availability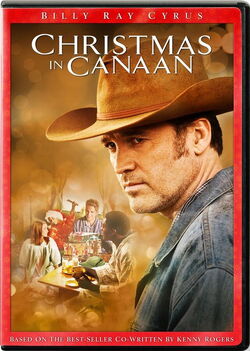 The movie was released on DVD on October 5, 2010.
Cast
Actor/actress
Character(s)
Billy Ray Cyrus
Daniel Burton
Tom Heaton
Wylie
Jaishon Fisher
Rodney (young)
Zak Ludwig
DJ (young)
Jessica Mcleod
Sarah (young)
Darien Provost
Bobby (young)
Candus Churchill
Eunice
Tom Mcbeath
Carl
Matt Ward
Rodney (older)
Jacob Blair
DJ (older)
Emily Tennant
Sarah (older)
Brendan Meyer*
Bobby (older)
Julian D. Christopher
Shoup
Paul Herbert
Clancey
Rukiya Bernard
Charlene
Stefanie Samuels
Angela
Ben Cotton
Jake
Lossen Chambers
Celie
Neill Fearnley
Clark
Nico Mceown
Jimmy Ray
Stacee Copeland
Carolyn Adair
Nurses
Arien Boey
Bobby (age 4)
John John
Bandit (younger)
Dolittle
Bandit (older)
* - Nominated for the 2010 Young Artist Award for Best Actor in a TV Movie
See also
External links
Community content is available under
CC-BY-SA
unless otherwise noted.