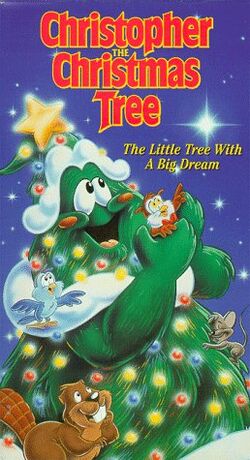 Christopher the Christmas Tree is a 1993 Christmas television special.
Synopsis
In the Valley of Hidden Hollow is Christopher, the tallest, prettiest Christmas tree who has been passed over by family after family, Christmas after Christmas. Still, he dreams of being a beautiful one, even though he had grown too big to fit into anybody's home. All grown up, he is able to provide shelter to his many forest friends and Hootey the owl. And before the story is over, Christopher, Hootey, and all the children of the world learn that dreams really do come true at Christmas.
Voices
Bill Reiter
Lelani Marrell
Kyle Lebine
Tony Dakota
Chuck Glaser
George Bowers
Babs Shula
Kevin Hayes
Hugh Delaney
Jim Glaser
Paul Dobson
John Payne
Mikal Grant
External links
This page about a Christmas special or an episode from a television series with a Christmas theme is a stub. Please help the Christmas Special Wiki by expanding this article.
Community content is available under
CC-BY-SA
unless otherwise noted.