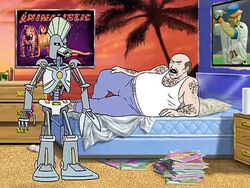 "Cybernetic Ghost of Christmas Past From the Future" is the first Christmas-themed episode of the Adult Swim animated series Aqua Teen Hunger Force, produced and aired as the eighteenth and last episode of the show's first season.
Summary
A robot that claims to be a ghost from the future (or possibly the past) arrives to lecture Carl and the ATHF about how Christmas was celebrated in the past (or possibly the future).
Cast
Voice actor/actress
Character(s)
Dana Snyder
Master Shake
Carey Means
Frylock
Dave Willis
Meatwad
Carl Brutananadilewski
Matt Maiellaro
Ghost of Christmas Past
mc chris
Young Carl
C. Martin Croker
Dr. Weird
Steve
Glenn Danzig
Himself
Schooly-D (uncredited)
Narrator
External link
Community content is available under
CC-BY-SA
unless otherwise noted.