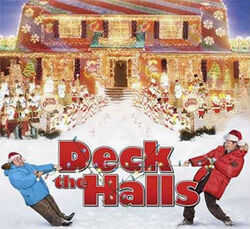 Deck the Halls is a 2006 family comedy film set during the Christmas season in Massachusetts. It stars Danny DeVito, Matthew Broderick, Kristin Davis, and Kristin Chenoweth and was directed by John Whitesell.
Synopsis
Local eye doctor and Christmas expert Steve Finch wants his kids to have a great Christmas, packed with Steve's tried and true traditions, such as using an advent calendar, taking Christmas card pictures in matching sweaters, and getting a large tree. At night, he hears noises. He looks out his window and sees a moving truck. He and his wife Kelly immediately know that "the new neighbors are moving in." In the morning, when Steve goes to get his paper, he is startled to see someone on his doorstep, stealing the paper, which causes him to spill coffee on himself. The stranger is his new neighbor Buddy Hall, a car salesman. Steve and Kelly also meet Buddy's wife Tia. Later that day, Kelly, her daughter Madison and son Carter go to the Halls' house, where they meet Tia & Buddy's children, Ashley & Emily. Tia & Kelly immediately become friends, as do Ashley, Emily and Madison. That night, the Hall girls discover a website called MyEarth, which shows satellite images of any place from space (seemingly a parody of Google Earth). The Hall house is not visible, so Buddy decides to make it visible using Christmas lights. Due to his lights, Buddy becomes known around the town. Steve is not happy about this as he is considered "the Christmas guy" and is chairman of the town's WinterFest. Buddy also purchases a large horsedrawn sleigh, and finds horses to pull it. The Finches come to see the sleigh, and are invited to take their Christmas pictures in the sleigh. Steve declines, but Carter enters the sleigh anyway. In attempt to get Carter "out of that metal death trap" he frightens the horses, who pull him around town, finally plunging into a frozen river. Steve wakes up to find himself naked, zipped into a sleeping bag with Buddy, who is also naked. Buddy explains that he is giving Steve body heat in order to keep him from dying. Steve then starts screaming. Buddy's house is eventually completely lit, and synchronized to music. Steve has had enough with being kept awake each night, and finally fills Buddy's fuse box with snow. His plan is foiled, due to a backup generator.
Buddy and Steve make a bet: if Steve beats Buddy in the WinterFest speedskating race, then Buddy removes the lights, and if Buddy beats Steve, he buys a car from Buddy. Buddy wins, and Steve yells at Buddy for being a nobody, since the Hall house is still not visible from Space. Steve finally buys a large amount of fireworks and a large illegal military grade firework from a gangster and tries to blow up the Hall house. The rocket misfires, and sets the Finch house on fire. Kelly, Carter, Madison, Tia, Ashley, and Emily all decide to stay at a motel to salvage the Christmas. Buddy and Steve forget their rivalry, and build a winter wonderland with all of Buddy's lights and lure Tia, Kelly, and the kids home. They all sit down to a nice meal. But, the whole town helps put Buddy's lights back up in time for a story about them on MTV. The lights don't work, and they all sing carols and use their cell phones as flashlights. As the group sings, Carter notices that one of the plugs of the lights is not plugged in, and this is why the lights do not work. He plugs in the light, causing them to shine brightly through the night. SuChin Pak, who is doing the MTV report, gets confirmation that the house is indeed visible from space. The crowd celebrates as it ends.
Music
Soundtrack
Home media releases
Cast
Actor(s)/actress(es)
Character(s)
Danny DeVito
Buddy Hall
Matthew Broderick
Steve Finch
Kristin Davis
Kelly Finch
Kristin Chenoweth
Tia Hall
Alia Shawkat
Madison Finch
Dylan Blue*
Carter Finch
Kelly Aldridge
Ashley Hall
Sabrina Aldridge
Emily Hall
Jorge Garcia
Wallace
Fred Armisen
Gustave
Gillian Vigman
Gerta
Ryan Devlin
Bob Murray
Sean O'Bryan
Mayor Young
SuChin Pak
Herself
Jackie Burroughs
Mrs. Ryor
Garry Chalk
Sheriff Dave
Nicola Peltz
Mackenzie
Zak Santiago
Fireworks Guy
David Lewis
Lochlyn Munro (uncredited)
Ted
Daniel Bacon
Ed
Ken Kramer
Mr. Murray
Jill Morrison
Gail
Alfred E. Humphreys
Hardware store Employee
Brenda M. Crichlow
Jill Kril
Newsreporters
Agam Darshi
Newsproducer
David Stuart
Oblivious Da
Quinn Lord
Kid with Santa
Nathaniel DeVeaux
Main St. Passerby
Fulvio Cecere
Town Passerby
Eliza Norbury
Mary in the Manger
Randi Lynne
Dan Joffre
Aurora Faulkner-Killam
Melissa Howell
Lori Johnson
David Shaw
Myles Wolfe
Carolers
Ty Olsson
Trucker
Stephen Holmes
UPS Guy
Andrew Hedge
City Employee
Cory Monteith
Madison's date
Uncredited
Aaron Craven
Dad (Businessman)
Blair Gorrell
Carnival Fan
Rachel Li
Spectator
Kal Penn
Amit Sayid (Satellite Computer Tech)
Caroline Redekopp
Mackenzie's Mother
Arden Rhine
Background Performer
Calum Worthy
Boy with Bike
*</nowiki> - Winner of the 2007 Young Artist Award for Best Actor (Age 10 & up) in a Feature Film.
External links
20th Century Studios
Television episodes and specials
Animated shows and specials
The Simpsons
"Simpson Christmas" • "Simpsons Roasting on an Open Fire" • "Marge Be Not Proud" • "Miracle on Evergreen Terrace" • "Grift of the Magi" • "Skinner's Sense of Snow" • "She of Little Faith" • "'Tis the Fifteenth Season" • "Simpson Christmas Stories" • "Kill Gil, Volumes I & II" • "The Fight Before Christmas" • "Holidays of Future Passed" • "White Christmas Blues" • "I Won't Be Home for Christmas • "The Nightmare After Krustmas" • "'Tis the 30th Season" • "Bobby, It's Cold Outside" • "The Way of The Dog" • "A Springfield Summer Christmas for Christmas"
King of the Hill
"The Unbearable Blindness of Laying" • "Pretty, Pretty Dresses" • "Hillennium" • "'Twas the Nut Before Christmas" • "The Father, the Son, and J.C." • "Livin' on Reds, Vitamin C and Propane" • "Ms. Wakefield"
Family Guy, American Dad!, and The Cleveland Show
"A Very Special Family Guy Freakin' Christmas" • "The Best Christmas Story Never" • "The Most Adequate Christmas Ever" • "Rapture's Delight" • "A Cleveland Brown Christmas" • "Road to the North Pole" • "For Whom the Sleigh Bell Tolls" • "Murray Christmas" • "Season's Beatings" • "Die Semi-Hard" • "Jesus, Mary and Joseph!" • "'Tis the Cleveland To Be Sorry" • "Minstrel Krampus" • "Christmas Guy" • "Dreaming of a White Porsche Christmas" • "The 2000-Year-Old Virgin" • "How the Griffin Stole Christmas" • "Ninety North, Zero West" • "Don't Be a Dickens At Christmas" • "Santa, Schmanta" • "Christmas is Coming" • "Yule. Tide. Repeat." • "The First No L"
Futurama
"Xmas Story" • "A Tale of Two Santas" • "The Futurama Holiday Spectacular"
Bob's Burgers
"God Rest Ye Merry Gentle-Mannequins" • "Christmas in the Car" • "Father of the Bob" • "Nice-Capades" • "The Last Gingerbread House on the Left" • "The Bleakening" • "Better Off Sled" • "Have Yourself a Maily Linda Christmas" • "Yachty or Nice"
Other cartoons
"Hook's Christmas" • "A Christmas Surprise for Mrs. Stillman" • Olive, the Other Reindeer • Ice Age: A Mammoth Christmas • "The War on Grafelnik" • "Miracle on Culpepper Slims Boulevard"
Community content is available under
CC-BY-SA
unless otherwise noted.