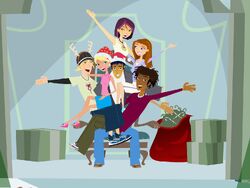 "Deck the Mall" is the first Christmas episode of the Canadian animated series 6teen. It was originally broadcast on the Canadian television network Teletoon on December 23, 2004, and later made its US premiere on Cartoon Network on December 7, 2008.
Synopsis
Three people are playing Christmas songs on a tuba, trumpet, and a trombone while parents with their kids stand in a line asking Santa what they want for Christmas. At the Penalty Box, Caitlin asks Jen what she wants for Christmas. She realizes that Caitlin hasn't even begun her Christmas shopping yet. Then, she tells Caitlin that she'll be "buried alive" due to many shoppers shopping at the mall. Caitlin remembers Jonesy telling her that. She also aforementioned about him buying Jen a gift through a Secret Santa service. Jen says that he's not buying a gift for her himself, and then she calls him a jerk. In front of the box, a customer wants his goalie pad and Jen describes it. He said that he wanted a size 8 and a number 16. He told Jen to hurry up because he was on break. Another customer wants his tennis balls to be paid and he makes a face using his tennis racket. Jen accepts the offer and walks back to the register. Caitlin decides that the Secret Santa service should be at Grind Me. Jen tells her that she doesn't have time while Stanley picks up a badminton racket and fires birdies at Jen. She takes the racket and wraps it up for him, hoping that he'll play with it in the house. Coach Halder calls her and tells her that Stuart Goldstein needs a new jack strap. He lets go of the ends and it hurts him.
Trivia
The episode's name is a pun on the Christmas song "Deck the Halls".
Jonesy's job: "Santa's Little Helper Elf"
Reason for firing: Tried to hit on Yummy Mummy and got pantsed by Stanley.
Availabilty
A DVD of the episode, with two additional episodes of the series, was released in both Canada and the United States. It has also been included on The "Complete" First Season DVD set in Canada and the Season 1, Volume 1 DVD set in the US.
Cast
See also
Community content is available under
CC-BY-SA
unless otherwise noted.