"
Really? He's survived four of these already?
"

— C.A.R. after announcing the special's title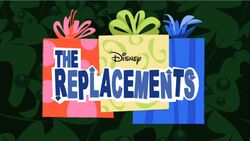 "Dick Daring's All-Star Holiday Stunt Spectacular 5" is a special half-hour holiday episode of the Disney Channel animated series The Replacements, aired as the 20th episode of the show's second season (though it is the season's twelfth episode in production order).
Synopsis
This page about a Christmas special or an episode from a television series with a Christmas theme is in need of a longer synopsis. You can help the Christmas Special Wiki by expanding this synopsis.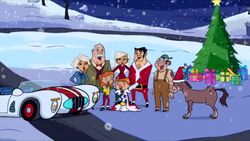 Dick Daring hosts a 1970's-style Christmas variety show, produced, directed and costarred by Riley. In his opening monologue, the patriarch of the Darings theorizes that Santa Claus is in fact a stuntman, which he describes in song in a rewrite of "O Come All Ye Faithful." Todd tries to make some money with his own telethon and later gets to perform his own twisted version of Charles Dickens' A Christmas Carol. Buzz struggles to get Riley to give him permission to read some Christmas-related poetry on the show. Special guests include Carson Palmer, a reluctant Josh Duahmel, and Ed Begley, Jr. who preaches environmentalism. Dustin Dreamlake sings his new hit "Get My Santa On," Buzz Winters tries to read The Night Before Christmas on the show, Agent K tries (and fails) to hide her identity, and Dick performs an elaborate all-star stunt salute to the holidays.
Songs
"

Come All Ye Stuntmen

"
"

Get Your Santa On

"
"

Happy Holiday Time

"
Availability
This episode, along with every other episode of the series, is available to purchase on iTunes and Google Play.
Cast
Note: Sierra McCool makes a cameo, but does not have a speaking part.
External links