Jerome Crystal, better known as Doc, is a character from the Jim Henson television series Fraggle Rock. He is an inventor who lives with his dog, Sprocket. He spends a lot of time in his workship which, unbeknownst to him, has a hole that leads into Fraggle Rock. In each episode, he finds himself receiving Uncle Traveling Matt's postcards to Gobo Fraggle and being puzzled as to how he keeps getting them, which he always then throws into his wastebasket (after which Gobo retrieves them with Doc not even noticing). He remains unaware of the Fraggles' existence up until the show's second-to-last episode, "The Honk of Honks", when he actually meets and befriends Gobo.
Appearances in Christmas specials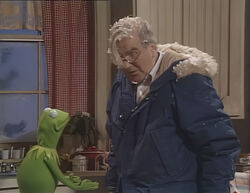 A Muppet Family Christmas - Doc had a major role in this crossover with The Muppets and Sesame Street. Accompanied by Sprocket, he rents Emily Bear's cottage at Grizzly Farm for Christmas until Fozzie Bear arrives with his friends to spend Christmas with his mother. Though initially taken aback by the sudden arrival of the Muppets, Doc adjusts and befriends them, even going so far as to search for Miss Piggy in the blizzard. He later joins in on the Christmas melodies and even plays Santa Claus for them at the end of the special. It should be noted that although the special aired after Fraggle Rock had ended its run, it apparently takes place before Doc's discovery of the Fraggles' existence in "The Honk of Honks"; at one point, he asks Sprocket if the Muppets are "anything like these Fraggles you keep telling me about."
External links
This article about a character from either a Christmas movie, television episodic series or special with a Christmas theme is a stub. Please help to expand this article in the Christmas Specials Wiki.
Community content is available under
CC-BY-SA
unless otherwise noted.