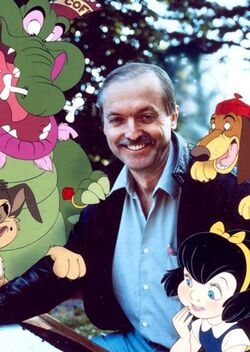 Donald Virgil Bluth (born September 13, 1937) is an American animator, film director, producer, writer, production designer, video game designer, and animation instructor. He is known for directing animated films, including The Secret of NIMH, An American Tail, The Land Before Time, All Dogs Go to Heaven, Thumbelina and Anastasia and even most recently, Titan A.E., and for his involvement in the LaserDisc game Dragon's Lair. He is also known for competing with former employer Walt Disney Productions during the years leading up to the films that would make up the Disney Renaissance.
He was also the director, writer and animator of the Christmas short The Small One.
Community content is available under
CC-BY-SA
unless otherwise noted.