The Mandalorian's Popularity | The Loop
Dora's Christmas Carol Adventure is a special hour-length episode of the Nick Jr. animated series Dora the Explorer, and the second Christmas episode. It was first released on DVD on November 3, 2009, and subsequently premiered on Nickelodeon on December 6, 2009, at 8pm ET/PT. It is written by co-creator Chris Gifford
Synopsis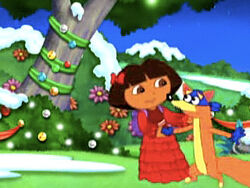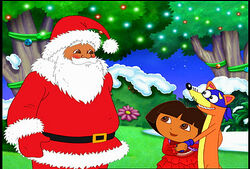 The plot is loosely based on Charles Dickens' classic holiday story A Christmas Carol.
SPOILER:
Plot details or story follow.
Santa narrates the classic holiday story A Christmas Carol with a Dora twist. Swiper the Fox tries to swipe the Christmas tree star from Dora's Nochebuena party, which promptly lands him on Santa's naughty list. When Dora tries to ask the big guy in red for another chance for Swiper to get off the naughty list, he does agree - but only if Swiper learns the true meaning of Christmas.
Merchandise
A soundtrack to the special was also released; it was printed versions of the special in both English and Spanish.
Songs
Nochebuena
No Swiping on Christmas
Shake Shake Shake
Wiggle Wiggle
Funny Bunny
We're the Maps
Recoge
Nochebuena (Reprise)
Cast
Voice actress/actor
Character(s)
Caitlin Sanchez
Dora Márquez (Present & Older)
Littlest Girl Elf
Regan Mizrahi
Boots
Littlest Boy Elf
Maya Barrera
Sweetest Elf
Jean Carlos Celi
Tico
Elves
Harry Chase
Santa Claus
Chris Gifford
Big Red Chicken (Present)
Grumpy Old Troll (Present & Young)
Really Old Elf
Matthew Gumley
Benny
Henry the Elf
Young Boy Elf
Animal SFX
Lenique Vincent
Isa
Young Girl Elf
Animal SFX
Marc Weiner
Map (Present & Future)
Swiper
Fiesta Trio
Trivia
Notably, this special marks the first appearence of the 16-year-old version of Dora, in which her design is used for the basis of the Dora Explorer Girls special, the second spin-off Dora and Friends: Into the City, and the 2019 theatrical film Dora and the Lost City of Gold.
On off-TV prints, the 2008 Nickelodeon "Lightbulb" logo, with the 2001 audio, is shown, but the Nickelodeon airings have the 2009 Nickelodeon Productions logo in place.
See also
External Links
Community content is available under
CC-BY-SA
unless otherwise noted.