Wiki Targeted (Entertainment)
Play Sound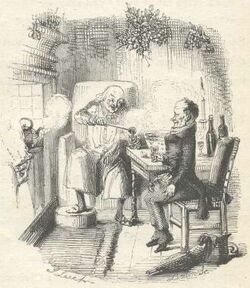 "
Bah, humbug!
"

— Scrooge's catchphrase
Ebenezer Scrooge (born February 7, 1786) is the main character in Charles Dickens' tale, A Christmas Carol. He is a very cold-hearted, selfish elderly man, who has no love for Christmas, children, family, or anything that even resembles happiness. The story of his transformation by the three Ghosts of Christmas (Past, Present, and Yet to Come) has become a defining tale of the Christmas holiday.
Scrooge's partial inspiration is Ralph Nickleby, an antagonist in an earlier Dickens novel, Nicholas Nickleby.
Portrayals
Picture
Production
Year
Actor
Notes
The Death of Poor Joe
1901
Tom Green, Laura Bayley
Scrooge; or Marley's Ghost
1901
unknown
A Christmas Carol
1908
Thomas Ricketts
A Christmas Carol
1910
Marc McDermott
This short silent film was produced by Thomas Edison in 1910.
A Christmas Carol
1913
Sir Seymour Hicks
A Christmas Carol
1914
Charles Rock
The Right to be Happy
1916
Rupert Julian
Scrooge
1922
H. V. Esmond
A Christmas Carol
1923
Russell Thorndike
Old Scrooge
1926
unknown
A Christmas Carol
1928
Bransby Williams
Scrooge
1935
Sir Seymour Hicks
A Christmas Carol
1938
Reginald Owen
The feature was originally intended to star Lionel Barrymore, who played the role of Scrooge annually on radio, but Barrymore was forced to drop out of the film because of his arthritis.
A Christmas Carol
1943
William Podmore
A Christmas Carol
1947
John Carradine
A Christmas Carol
1948
Dennis King
A Christmas Carol
1949
Taylor Holmes
A Christmas Carol
1950
Bransby Williams
Scrooge
1951
Alastair Sim
Alastair Sim's performance as Ebenezer Scrooge in the 1950 production "Scrooge" is generally regarded as the definitive portrayal of the role. The film expands on the original story by adding Scrooge's rise as a prominent businessman who was corrupted by a greedy new mentor that had lured him away from the benevolent Mr. Fezziwig. Sim reprised the role two decades later, lending his voice to Richard Williams' 1971 animated version of the tale.
A Christmas Carol
1951
Ralph Richardson
A Christmas Carol
1952
Malcolm Keen
A Christmas Carol
1953
Noel Leslie
A Christmas Carol
1954
Fredric March
The Stingiest Man in Town
1956
Basil Rathbone
Rathborne would go on to play Scrooge again in the 1959 episode of Tales from Dickens.
The Trail to Christmas
1957
John McIntire
Tales from Dickens: "A Christmas Carol"
1959
Basil Rathborne
Rathborn reprises the role of Scrooge in this production, having previously played him in the 1956 production of The Stingiest Man in Town.
Mister Magoo's Christmas Carol
1962
Quincy Magoo
(voiced by Jim Backus)
Mr. Magoo takes on an acting role where he plays Scrooge in a Broadway theater play. There are a few references to Scrooge's (more accurately Magoo's) myopic vision within the stage production presented in the special. In the opening sequence, Mr. Magoo is shown arriving at the theater, and at the end is shown taking a bow with the other actors.
Mr. Scrooge
1964
Cyril Ritchard
Carry on Christmas
1969
Sid James
Famous Classic Tales: A Christmas Carol
1969
Ron Haddrick
Scrooge
1970
Albert Finney
Albert Finney's portrayal of Scrooge in this musical adaptation won him the a Golden Globe for The Best Motion Picture Actor in a Musical/Comedy in 1971.
A Christmas Carol
1971
Voiced by
Alistair Sim
Alistar Sim, famously known for playing Scrooge in the 1950 production "Scrooge", reprises the role - this time voicing the character of Ebenezer for an animated adaptation.
A Christmas Carol
1977
Michael Hordern
A Christmas Carol
1978
Warren Graves
The Stingiest Man in Town
1978
Voiced by
Walter Matthau
Rich Little's Christmas Carol
1978
Rich Little
(as W. C. Fields)
Bugs Bunny's Christmas Carol
1979
Yosemite Sam
(voiced by Mel Blanc)
A Christmas Carol
1981
William Paterson
A Christmas Carol
1982
Richard Hilger
The Gospel According to Scrooge
1983
Robert Buchanan
Mickey's Christmas Carol
1983
Scrooge McDuck
(voiced by Alan Young)
Being named after the Ebenezer Scrooge character, it was fitting for Scrooge McDuck to portray the character. Alan Young, who voiced Scrooge, also created the 1977 record album on which the film was based upon.
Scrooge's Rock 'N' Roll Christmas
1984
Jack Elam
A Christmas Carol
1984
George C. Scott
Scott was nominated for an Emmy for Outstanding Lead Actor in a Limited Series or a Special for his portrayal in this version of A Christmas Carol. This Scrooge notably wears dress-slacks, a dress-shirt, a vest and a smoking jacket on his journey through time rather than the traditional nightgown, slippers and cap. Sources have stated that Scott openly reeled at the thought of portraying Scrooge under such conditions, especially in mid-winter England.
A Christmas Carol
1984
Michel Bouquet
Christmas Carol II the Sequel
1985
James Whitmore
The Real Ghostbusters: "Xmas Marks the Spot"
1986
Peter Renaday
The Muppet Christmas Carol
1992
Michael Caine
The British character actor is very believable as Scrooge in Brian Henson's directorial debut.
A Flintstones' Christmas Carol
1993
Fred Flintstone
(voiced by Henry Corden)
Fred gets the role of Ebonezer Scrooge in Bedrock Community Theatre's production of A Christmas Carol. He becomes so obsessed with the part that he begins living it, and through playing Scrooge, he ends up learning a valuable lesson about his own selfishness.
A Christmas Carol
1994
unknown
A Christmas Carol
1997
Tim Curry
The consummate British actor, best known for his crossdressing role as Dr. Frank N. Furter in The Rocky Horror Picture Show as well as Mr. Hector in Home Alone 2: Lost in New York and the voice of Nigel Thornberry from The Wild Thornberrys plays it straight here.
Ebenezer
1998
Jack Palance
Set in the wild west, Palance portrays Scrooge as the "most greedy, corrupt and mean-spirited crook in the old West".
A Christmas Carol
1999
Patrick Stewart
The British actor best known as Captain Jean-Luc Picard from Star Trek: The Next Generation and Professor Charles Xavier in the X-Men movies also performed a one-man version of Dickens' play in the 1990s in London and New York.
A Christmas Carol
2000
Ross Kemp
(as Eddie Scrooge)
Eddie Scrooge, played by Ross Kemp, is an unscrupulous loan shark living on a poor estate, his business partner Jacob Marley is killed while out on business, though Eddie knows why he was killed he does no disclose this information to the police, or Marley's family. In this modern adaptation, Eddie is taught the true meaning of Christmas by the three ghosts of Christmas, past, present and future.
Christmas Carol: The Movie
2001
Simon Callow
In this adaptation, Scrooge is middle aged instead of elderly and reunites with his old flame Belle (who works as a nurse). He is also shown to have a soft spot for animals as he shows kindness towards a mouse that appears throughout the film with its companion Gabriel.
Scrooge and Marley
2001
Dean Jones
A Christmas Carol: The Musical
2004
Kelsey Grammer
The Polar Express
2004
Voiced by
Tom Hanks
Scrooge makes a cameo appearance as a marionette. It is revealed that the puppeteer of this character is the hobo.
The Northern Ballet Theatre presents A Christmas Carol
2005
Jeremy Kerridge
A Christmas Carol: Scrooge's Ghostly Tale
2006
unknown
The Carol Project
2006
Bill Bourne
The Nutcracker: A Christmas Story
2007
Marc Wenke
A Christmas Carol
2009
Voiced by
Jim Carrey
The film, directed by Robert Zemeckis, uses the motion capture techniques previously featured on The Polar Express and Beowulf. Zemeckis wrote the screenplay with Jim Carrey in mind, and - like Tom Hanks in The Polar Express - Carrey plays multiple roles in the film, including Ebenezer Scrooge as a young, middle-aged, and old man, along with the three ghosts who haunt him.
The Man Who Invented Christmas
2017
Christopher Plummer
Academy-Award Winner Christopher Plummer portrays Scrooge as a vision from Charles Dickens' own imagination, whom only Dickens can see, hear, and talk to at various moments. At the near end, Dickens confronts Scrooge and overcomes his own inner darkness, nearly ending the story with Scrooge's death. But after he pleads for mercy and makes his vows, Dickens finally finishes his book in time for his deadline.
A Christmas Carol
2019
Guy Pearce
Female Scrooges
Other characters in the Scrooge role
Picture
Production
Year
Character
Notes
Carol for Another Christmas
1964
Daniel Grudge
A Special Sesame Street Christmas
1978
Oscar the Grouch
(played by Carroll Spinney)
Skinflint: A Country Christmas Carol
1979
Cyrus Flint
An American Christmas Carol
1982
Benedict Slade
(played by Henry Winkler)
Henry Winkler plays Benedict Slade, a depression-era American version of Ebenezer Scrooge, who is visited by the three Christmas ghosts to see the error of his ways.
The Jetsons: "A Jetson Christmas Carol"
1985
Cosmo Spacely
(voiced by Mel Blanc)
John Grin's Christmas
1986
John Grin
Scrooged
1988
Francis "Frank" Xavier Cross
(played by Bill Murray)
Frank Cross is a selfish, cynical television programming executive whose concentration on his lucrative, fast climbing career cost him his true love, alienated him from his family and obliterated any chance of having a happy and fulfilling life. When he is given the task of heading up a live broadcast of A Christmas Carol, his life inexplicably begins to mirror the story he's producing.
Blackadder's Christmas Carol
1988
Ebenezer Blackadder
(played by Rowan Atkinson)
In a reversal of roles, Victorian mustache shop owner Ebenezer Blackadder is the nicest man in England - until the Spirit of Christmas shows him what life in the past, present and future would be like if he was a little bit more mean-spirited.
Alvin and the Chipmunks: "Merry Christmas, Mr. Carroll"
1989
Alvin Seville
(voiced by Ross Badgasarian, Jr.)
Camp Candy: "Christmas in July"
1989
Vanessa
(voiced by Willow Johnson)
Peter Pan and the Pirates: "Hook's Christmas"
1990
Captain Hook
(voiced by Tim Curry)
Back to the Future: "Dickens of a Christmas"
1991
Ebiffneezer Tannen
(voiced by Thomas Wilson)
One of many ancestors of Back to the Future antagonist Biff Tannen.
Animaniacs: "A Christmas Plotz"
1993
Thaddeus Plotz
(voiced by Frank Welker)
Avenger Penguins: "A Christmas Carol"
1994
Caractacus P. Doom
(voiced by Mike McShane)
Beavis and Butt-head: "Huh-Huh-Humbug"
1994
Beavis
(voiced by Mike Judge)
Littlest Pet Shop: "Who Scrooged McRude?"
1995
Angus McRude
(voiced by Ian James Corlett)
Xena: Warrior Princess: "A Solstice Carol"
1996
King Silvas
101 Dalmatians: "A Christmas Cruella"
1997
Cruella De Vil
(voiced by April Winchell)
An All Dogs Christmas Carol
1998
Carface Caruthers
Sabrina: The Animated Series: "Witchmas Carole"
1999
Gem Stone
(voiced by Chantal Strand)
Maxine's Christmas Carol
2000
Maxine
Adventures from the Book of Virtues: "A Christmas Carol"
2000
Annie Redfeather
(voiced by Adrienne Carter)
A Very Cartoon Cartoon Fridays Holiday Special
2000
Eustace Bagge
(voiced by Lionel Wilson)
Eustace (bottom) portrays Scrooge in a segment parodying the closing scene of A Christmas Carol.
Brer Rabbit's Christmas Carol
2002
Brer Fox
A Carol Christmas
2003
Carol Cartman
(played by Tori Spelling)
Tori Spelling plays a selfish talk show host.
The Star of Christmas
2002 & 2004
Mr. Nezzer
Nezzer talks to Cavis and Mallard on their production "The Princess and the Plumber".
Chasing Christmas
2005
Jack Cameron
Foster's Home for Imaginary Friends: "A Lost Claus"
2005
Mr. Herriman
(voiced by Tom Kane)
Because he was only going to give one gift to each resident, Bloo decides to scare this seven-foot-tall imaginary rabbit out of his wits on Christmas Eve.
A Sesame Street Christmas Carol
2006
Oscar the Grouch
(played by Carroll Spinney)
A Christmas Mikey
2006
Ozu
(voiced by Stephen Moverly)
Bah, Humduck! A Looney Tunes Christmas
2006
Daffy Duck
(voiced by Joe Alaskey)
Daffy is the owner of the Lucky Duck Mall, and he treats his employees very shabbily. After Daffy states he hates the holidays, Bugs Bunny warns him about the Ghosts of Christmas, which Daffy simply scoffs at. However the duck changes his tune after the Christmas spirits arrive and show him the error of his ways.
A Dennis the Menace Christmas
2007
George Wilson
(played by Robert Wagner)
The Replacements: "Dick Daring's All-Star Holiday Stunt Spectacular V"
2008
Todd Daring
(voiced by Nancy Cartwright)
Todd plays Scrooge in a Christmas Carol skit for his adoptive father's holiday special.
Dora the Explorer: Dora's Christmas Carol Adventure
2009
Swiper the Fox
(voiced by Marc Weiner)
After getting on Santa's naughty list, Swiper must learn to be good.
The Suite Life on Deck: "A London Carol"
2010
London Tipton
(portrayed by Brenda Song)
Aída: "La Noche de los Belenes Vivientes"
2010
Mauricio Colmenero
(portrayed by Mariano Peña)
The Smurfs: A Christmas Carol
2011
Grouchy Smurf
(voiced by George Lopez)
El Barco: "La noche de reyes"
2012
Ernesto Gamboa
(portrayed by Juan Pablo Shuk)
Shake It Up: "Merry Merry It Up"
2012
CeCe Jones
(portrayed by Bella Thorne)
The High Fructose Adventures of Annoying Orange: "Orange Carol"
2012
Orange
(portrayed by Daneboe)
La CQ: "Christmas in the CQ"
2012
Adri
The Thundermans: "Winter Thunderland"
2014
Max Thunderman
(portrayed by Jack Griffo)
Thomas & Friends: "Diesel's Ghostly Christmas"
2015
Diesel
(voiced by Kerry Shale)
Diesel refuses to be helpful to anyone at Christmastime, so Thomas, Emily, Salty, Cranky and Paxton decide to teach him a lesson by pretending to be four ghosts who teach him about what will happen if he does not begin helping others.
My Little Pony: Friendship is Magic: "A Hearth's Warming Tail"
2016
Starlight Glimmer
(voiced by Kelly Sheridan)
Starlight Glimmer plays a Scrooge-like character named Snowfall Frost. Here she is a powerful magician who attempts to erase Hearth's Warming from existence with a magic spell, dismissing the idea that the holiday protects the land from evil Windigos as a childish story. The three spirits visit her not only to teach her the true meaning of the holiday, but also to prevent the eternal winter her spell would create.
Camp Lakebottom: "Smells Like the Holidays"
2016
Mc. Gee
After pulling a fart prank on Squirt that stinks up the whole Mess Hall, McGee blames it on Squirt, who then believes his gas is too dangerous to let out anymore and traps himself inside a bubble. McGee is then visited by 3 'gasey' ghosts, who show him what his stinky actions will lead to. So he confesses his responsibility for the incident.
Be Cool, Scooby-Doo!: "Scroogey Doo"
2017
Voiced by
Neil Ross
After his visit from Marley, Scrooge meets Mystery Inc., gives them British exchange for their American tender, and allows them to try and solve his mystery. During each visitation, Scrooge tells the gang what ghosts came and what they showed him. After the 3rd ghost is caught, he arrives with the police. On the downside, with the mystery solved, Scrooge remains stingy, believing nothing bad will happen to him.
Velma Dinkley
(voiced by Kate Micucci)
'Victorian Velma' arrives in England with the gang for the New Science and Reason Symposium. After getting tangled in Scrooge's mystery, however, she too is visited by the 3 Christmas ghosts, who convince her that mystery-solving is a waist of her genius. However, Velma then realizes that she and Scrooge were victims of hypnosis, overcomes it, and realizes she can be who she wants and solve mysteries.
The Powerpuff Girls: "You're a Good Man, Mojo Jojo"
2017
Mojo Jojo
(voiced by Roger L. Jackson)
Vampirina: "A Gargoyle Carol"
2019
Gregoria
voiced by Wanda Skyes
New Looney Tunes: "The Legend of Burrito Monday"
2020
Elmer Fudd
voiced by Jeff Bergman
The Loud House: "A Flipmas Carol"
2020
Flip
(voiced by John DiMaggio)
See also
Community content is available under
CC-BY-SA
unless otherwise noted.