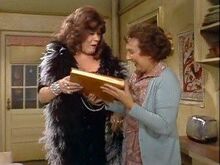 "Edith's Crisis of Faith" is the two part fourth Christmas episode of the CBS sitcom All in the Family, aired in the show's eighth season.
Synopsis
Part 1
Edith is thrilled when her good friend, female impersonator Beverly LaSalle, pays a visit and announces she will be playing at Carnegie Hall after Christmas. Mike offers to walk her to a cab on his way to the store to buy a new star for the Christmas tree but tragedy results when they encounter a couple of muggers.
Part 2
On Christmas Day, Edith becomes despondent and feels betrayed by God as she mourns the death of Beverly but she is encouraged to see the situation differently by the seemingly most unexpected person.
See also
Community content is available under
CC-BY-SA
unless otherwise noted.