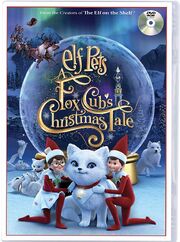 The Elf on the Shelf - Elf Pets: A Fox Cub's Christmas Tale is the CGI-animated Christmas special that premiered on DVD on August 25, 2019, exclusively online on EotS website and at EotS displays during the holiday season, before debuting it later on TBS. It is the second Elf Pets installment after the previous year's Santa's St. Bernards Save Christmas, and the third EotS animated installment.
Summary
Does Santa Claus really travel the whole world in one night? In this musical adventure, set against the backdrop of the Northern Lights, Scout Elf Newsey Noel investigates the mystery of Santa's once a year flight. Join her, a little boy named Michael, The Elf on the Shelf Scout Elves and loads of adorable Arctic Fox Elf Pets as they find out the top-secret answer and discover for themselves that there is nothing more powerful than hope-not even Santa.
Cast
| Voice actor/actress | Character |
| --- | --- |
| Brad Hyland | Santa |
| Leslie Bellair | Scout Elf Newsey Noel |
| Tommas Oden | Scout Elf Captain |
| Joe Peery | Legend and Lore Elf Joe |
| Brody Rose | Michael |
| Carol Aebersold | Grammy |
| Amy Dykstra | Mom |
| Trevor Goble | Scout Elf Mister Maestro |
| Emma Greene | Mrs. Claus |
| Amy Lovett | Clockwork Scout Elf |
| Jan Nelson | Mail Carrier Eleanor |
| Lauren Revard | Scout Elf Joy Sugar Cookie |
| Paul Ryden | Scout Elf General |
| Meagan Sharp | Scout Elf Haley |
| Whitney Watters | Legend and Lore Elf Lori |
Gallery
Videos
External link
See also
Community content is available under
CC-BY-SA
unless otherwise noted.