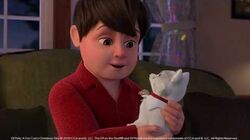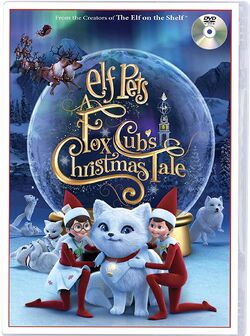 The Elf on the Shelf - Elf Pets: A Fox Cub's Christmas Tale is the CGI-animated Christmas special, adapted from "The Elf on the Shelf: A Christmas Tradition" and "Elf Pets: An Arctic Fox Tradition", that premiered on DVD on August 25, 2019, exclusively online on EotS website and at EotS displays during the holiday season. Made in Georgia, it is the second Elf Pets installment after the previous year's Santa's St. Bernards Save Christmas, and the third EotS animated installment. It was dedicated in the memories of Robert C. Aebersold and Doug Williams.
Summary
Does Santa Claus really travel the whole world in one night? In this musical adventure, set against the backdrop of the Northern Lights, Scout Elf Newsey Noel investigates the mystery of Santa's once a year flight. Join her, a little boy named Michael, The Elf on the Shelf Scout Elves and loads of adorable Arctic Fox Elf Pets as they find out the top-secret answer and discover for themselves that there is nothing more powerful than hope-not even Santa.
Songs
All songs arranged & produced by John Roberts
Notes
This program is shown on the official Elf on the Shelf YouTube channel for the 2019 holiday season, and again from mid-March-early April 2020 for the relief of the COVID-19 crisis.
Cast
Voice actress(es)/actor(s)
Character(s)
Leslie Bellar
Newsey
Angelic Voice Elf
Thomas Oden
Captain
Brad Hyland
Santa
Emma Greene
Mrs. Claus
Brody Rose
Michael
Carol V. Aebersold (EP)
Grammy
Jan Nelson
Mail Carrier Eleanor
Amy Dykstra
Mom Barb
Whitney Walters
Legend & Lore Elf Lori
Paul Ryden
Scout Elf General
Meagan Sharp
Reindeer Scout Elf Haley
Trevor Goble
Scout Elf Mister Maestro
Joe Peery (art dir.)
Legend & Lore Elf Joe
Chanda A. Bell
North Pole P.A. Voice
Myles Evans
Binocular Clock Elf
Amy Lovett
Clockwork Elf #1
Tommy Cochran
Back-up Singer Elf #1
Nicole Gray
Back-up Singer Elf #2
Townspeople Singer
Lauren Revard
Joy Sugar Cookie
Brain Mason
Scout Elf Soloman
Laura Berkeley
Various Scout Elves in the North Pole
Courtney Anderson
Marcus Butts
Jake Kessloff
Carter McPherson
Judah Norman
Holly Parker
Alex Pryor
Julia Schick
Scout Elf Singers
Berkeley Bennum
Christina Chvatal
Daisy Donaldson
Clara Hibbard
Presley Kostlich
Carly & Chloe McMillan
Mattie McNiel
Sadie-Clark Shelnutt
Skyler Silver
Walden Thompson
"Song of Christmas" Children's Choir
Courtney Bruns
Anthony & Tammy Cochran
Lane Force (animation dir.)
Brain Mason
Steve McConnell
Townspeople Singers
Kendyl Bell
Lauren Thisdale
Addison Ray
Various Scout Elves in the North Pole
"Song of Christmas" Children's Choir
Townspeople Singers
Ashley & John Roberts
(John - Music)
Scout Elf Singers
Townspeople Singers
Gallery
Videos
External link
See also
Community content is available under
CC-BY-SA
unless otherwise noted.