Elmo is a 3½-year-old furry red Muppet monster with an orange nose who appears on the television show Sesame Street. He debuted with the name Baby Monster during the early 1970s, when he usually only appeared in the background and was performed by numerous Muppeteers. He was eventually renamed Elmo in season 12, when he was performed by Brian Muehl. After Muehl's departure, he was briefly puppeteered by Richard Hunt, who shortly afterward tossed the role to Kevin Clash, who portrayed the character from then until his resignation in 2012 due to his sexual misconduct, after which Ryan Dillon took over the role in 2013. Under Clash's run with the character, Elmo's popularity on the show rose, especially when a toy in his image, Tickle Me Elmo, became the hottest-selling children's toy of 1996. Since then, Elmo has made starring roles in several Sesame Street-based Christmas specials.
Appearances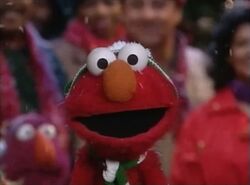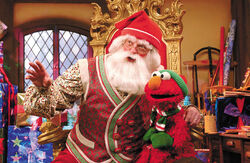 Other Christmas productions
A Muppet Family Christmas - Prior to any of the above-listed Sesame Street Christmas specials, Elmo's actual first appearance in any Christmas special was in this 1987 crossover special, where he and his fellow Sesame Street Muppets join Kermit and his Muppet Show co-stars at Fozzie's mother's farmhouse to spend Christmas. Since the special was made before Elmo's rise in popularity, he is not featured as prominently here as he would be in later specials. He can be seen portraying one of Santa's reindeer in the Sesame Street gang's performance of The Night Before Christmas. Also, the special's original broadcast included a brief shot in which he helps Fozzie turn on the Christmas tree lights; this was cut in subsequent broadcasts as well as the home video releases.
Christmas with the Mormon Tabernacle Choir - Elmo and several of his co-stars made a special guest appearance at the 2014 concert.
The Toycracker - Elmo was one of the licensed characters featured in this Target commercial.
Gallery
External links
Community content is available under
CC-BY-SA
unless otherwise noted.