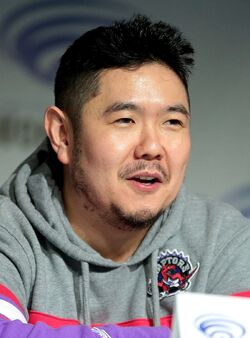 Eric Adrian Bauza (born December 7, 1979) is a Canadian-American voice actor and artist. His roles include such characters as Drift in Transformers: Robots in Disguise, Iron Spider in the 2013 Ultimate Spider-Man series, Foop (Poof's Anti-Fairy counterpart) from The Fairly OddParents, Jose Carioca in Legend of the Three Caballeros, Stimpy J. Cat in Ren and Stimpy's Adult Party Cartoon and the video game Nicktoons MLB, Master Frown from Unikitty!, and Splinter in Rise of the Teenage Mutant Ninja Turtles. He also voiced Fenton Crackshell in the DuckTales Remastered video game in 2013 and later all the Beagle Boys in the 2017 DuckTales reboot (and also voiced Scrooge McDuck himself for a cameo in an episode of Legend of the Three Caballeros). In addition, he is also voicing Bugs Bunny, Daffy Duck, and Marvin the Martian in certain modern Looney Tunes projects as of 2020 (such as HBO Max's Looney Tunes Cartoons).
Christmas filmography
External links
Community content is available under
CC-BY-SA
unless otherwise noted.