"Ferb" Fletcher (real name is unknown) is one of the main characters from the Disney Channel animated series Phineas and Ferb. He is a mechanical and technical genius who has helped his stepbrother Phineas Flynn build a plethora of things.
Appearances in Christmas specials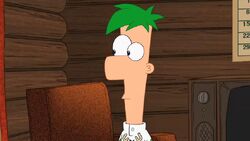 In the series' second Christmas episode, "A Phineas and Ferb Family Christmas" (which actually takes place first in chronological order), Ferb co-hosts The 12th Annual Phineas and Ferb Family Christmas Special alongside his stepbrother. When Phineas expresses concern about the absence of their pet platypus Perry, Ferb remarks to Isabella that "Every family Christmas special needs a little false drama."
In chronological order, Ferb's next appearance in a Christmas production is the series' first Christmas special, Phineas and Ferb Christmas Vacation! Here, Ferb assists his stepbrother through their Christmas Eve endeavor of decorating their hometown as a thank-you card for Santa Claus, broadcasting their song to the North Pole after the city is mistakenly branded as naughty, and helping deliver the city's Christmas presents. At the very end of the special, Ferb reveals to Phineas and their friends that he too received what he wanted for Christmas - a harmonica.
External links
Community content is available under
CC-BY-SA
unless otherwise noted.