Wiki Targeted (Entertainment)
Play Sound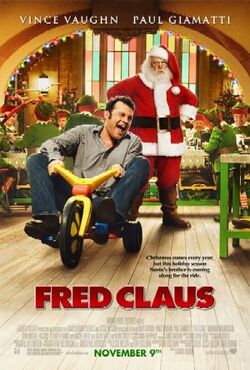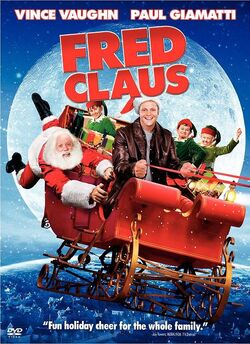 Fred Claus is a 2007 film starring Vince Vaughn and Paul Giamatti, directed by David Dobkin. Presented by Warner Bros. Pictures, it was produced by Sliver Pictures, in association with David Dobkin Productions and Jessie Nelson Productions.
Synopsis
A long time ago, in the Middle Ages, a woman is giving birth to a baby. As the baby is born, the midwife comments on how it's the fattest baby she's ever seen. Within a few minutes of his birth, the baby starts saying "Ho, ho, ho!" The woman, Mother Claus, calls her son Frederick over to meet his new brother, who she names Nicholas. Mother Claus lovingly refers to the new baby as her little Saint Nick, while Fred promises to be the best big brother ever. The next few scenes show Fred and Nick growing up, particularly during the development of some Christmas traditions. First, during Nick's birthday, Fred makes a special journal with his brother's name on it as a present. After opening all of his gifts, Nick places them in a box and tells his family he is going to take them to the orphan boy who lives around the corner, because giving gifts brings him joy. Their parents are very pleased with their son, while Fred is angry that Nick gave away his thoughtful gift. Mother Claus tells Fred that he should be more like his brother, causing Fred to resent Nick.
Feeling his family does not understand him, Fred climbs a large tree in the woods, and visits the only person who understands him - Chirp-Chirp, a bird that lives in a birdhouse in the tree outside their house. As Fred confides to the bird about his problems, the tree suddenly falls down, crushing the birdhouse and causing the bird to leave. It is then revealed that Nick cut down the tree because Fred liked the tree so much, and thought it would be a great idea to bring the tree inside and put gifts underneath for his sake. This is clearly the last straw, and causes a permanent rift between Fred and Nick.
Cutting to present-day, it is revealed that Nick becomes a saint due to all his good deeds, and he, his spouse, and his immediate family become frozen in time, never to age. Nick has become the modern-day Santa Claus, giving gifts to people, while Fred runs a repo company to take them away. Fred goes to see his girlfriend, Wanda Blinkowski, who gets mad at Fred for forgetting that her birthday was tomorrow. She also references that for their anniversary last year he had dropped hints about the Eiffel Tower and having her take French lessons, only to give a bad gift rather than the implied trip to France. Fred promises that they'll be going to a new hotspot for her birthday, although he did not check out the restaurant, only naming the restaurant he sees on a billboard as a last-minute plan.
The next day, Fred plans to buy a property to open up a gambling facility, but is required to pay $50,000 by December 22 to secure the property. As an attempt to raise the money, Fred grabs a Santa hat and a tin container and poses as a Salvation Army worker. When the real Salvation Army Santas confront him, a comical chase ensues, ending with Fred's arrest. Needing $5,000 bail, Fred tries to call Wanda, who doesn't answer because she is waiting for him at her birthday dinner, which turns out to be at a disgusting restaurant where men are watching sumo fights in the middle of the room. A policeman takes pity on Fred and allows him to make one more phone call. Fred calls Nick and tries to convince him to send $55,000. Nick almost agrees, but Mrs. Claus tells him to use "tough love". As a result, Nick agrees to send $5,000 immediately to pay for the bail, but says that Fred has to go to the North Pole and work for him to earn the remaining $50,000.
Back at his apartment, Fred is packing up when a boy named Samuel "Slam" Gibbons comes in, who obviously doesn't have a stable living situation. He talks about wanting a puppy for Christmas, but Fred tells him not to count on others for things. Later on, Family Services shows up because his home is unfit, and he is moved to an orphanage. Soon after, Fred is brought to the North Pole by Nick's head elf, Willy, who has a crush on Santa's Little Helper, Charlene, although she can't even remember his name. Once Fred and Willy arrive at the North Pole, Nick welcomes Fred warmly and shows him around, including the naughty/nice room. In the room is found a Top Ten List of the 10 most naughty children at any given time. There is also a humongous snow globe in the room, where you can say any person's name and see if they're being naughty or nice. Fred asks to see Wanda, and we see his girlfriend talking to a guy on the street whom she gave a parking ticket to. The man asks Wanda if she has a boyfriend and she says no (obviously upset that he stood her up); she declines his offer for dinner but takes his business card. Nick shows Fred where he will be working, looking at children's requests and determining if they are naughty or nice.
While Fred starts working, Nick and Mrs. Claus are introduced to Clyde Northcutt, an efficiency expert who has come to assess the situation at the North Pole and will shut them down if they get three strikes by Christmas. Back at the workshop, Fred starts getting restless, particularly because the DJ elf keeps playing "Here Comes Santa Claus" on a loop. Fred locks the DJ in a cupboard, puts on the song "Rubberneckin'", and convinces the elves to join in the dance party. Nick, Mrs. Claus, and Clyde walk in on this, and Clyde says that Nick's inability to control his work staff is Strike 1. That night, Nick convinces Fred to come to dinner with their parents and Clyde, and it's clear that Fred hasn't spoken to his parents in years. When Fred's mother continues to praise Nick, Fred storms out and heads to Frosty's Tavern, where he meets Willy. Willy discusses his lack of self-confidence regarding Charlene, and Fred tries to teach him to dance to the song "Beast of Burden". Unfortunately, Charlene enters the tavern just as Willy falls on his face, and he runs off embarrassed.
Later, when everyone else is asleep, Clyde sneaks into Fred's office, using a shredder to destroy many of Fred's naughty/nice records, framing Fred for the infraction, and marks it as Strike 2. Later, Fred is shocked to see that Sam is now the #1 naughty kid. Sam is shown arguing with the other children in the orphanage, saying the same types of things that Fred has said to Sam earlier. Fred concludes that children aren't truly naughty, but are simply either scared or misunderstood, and he furiously marks everyone as nice, rather than a mix of naughty and nice. Nick quickly learns about this and confronts Fred, stating that the elves will not be able to make enough gifts for every child if they are all marked "nice". The two end up fighting, resulting in Nick injuring his back. Frustrated with his entire family, Fred leaves the North Pole with his $50,000 as soon as they reach December 22, but Nick gives him a present to take with him. Fred waits until he returns home to open the gift, which is a birdhouse, a replacement for the one on the tree, and a note from Nick, saying he's sorry for sawing down the tree. Confused about his feelings, Fred enters into a Siblings Anonymous meeting, where he meets the brothers of Alec Baldwin, Sylvester Stallone, Bill Clinton and other famous look-alikes. Eventually, Bill's brother makes a speech about how, even though he could have ruined everything for his brother whom he resented, he chose to be a good brother and let him be successful.
Back at the North Pole, it looks like Christmas is lost: Nick can hardly get out of bed because of his bad back, and Clyde has given him Strike 3. However, before the deliveries should start, Fred shows up, having used his money to charter a plane, boat, and sled dogs to get back to the North Pole and help out. Without Clyde's knowledge, Fred and the elves work tirelessly to make at least one toy for each child, with no reference to if they're naughty or nice. However, Nick still can't drive the sleigh, and only a Claus can deliver the toys, so Fred decides to help deliver the toys. With Willy's help in the sleigh (and elves back at the North Pole serving as mission control), Fred starts delivering presents around the world (including giving a puppy to Sam and telling him to care about others), but has to be back to the North Pole before sunrise; otherwise, Christmas will be permanently shut down. Fred starts delivering toys, albeit without any gracefulness, with the help of Willy and the other elves. However, halfway through the night, Clyde pulls the electricity at the workshop, so that the elves can no longer give directions to Fred and Willy. While Fred and Willy try to finish delivering the gifts, Nick goes to talk to Clyde, finally realizing why he was holding such a grudge. It turns out that as a child, Clyde had always wanted a Superman cape, but had been on the naughty list. Nick gives Clyde the cape he had always wanted, ending the grudge between the two. Clyde tries to turn the electricity back on, but it still won't work, leaving Fred and Willy on their own, sightless in the sky.
The next morning, all the elves wait nervously at Frosty's Tavern, assuming the worst. Willy and Fred return, successful in their efforts. Willy, with a renewed confidence, goes to kiss Charlene, who can now remember his name and returns the sentiment. With Christmas saved, Fred returns to Wanda's house, but she is still furious with him. However, Fred feels renewed hope when he finds out she never met the other guy for dinner, and gives her a present. She opens it to find a teddy bear holding a French flag, implying that he is going to keep his promise to go to France. Fred and Wanda get back together, and use the sleigh to travel to Paris and see the Eiffel Tower. Charlene and Willy are now happily together. Clyde now works at the North Pole as a consultant, and helps the elves to meet quota without problems. Finally, we see Fred and Wanda meeting with Nick, Mrs. Claus, and Mother and Father Claus for dinner, showing that they've reconciled as a family. In the last shot, we see the birdhouse right outside where everyone is having dinner, and Chirp-Chirp lands on it, chirping happily.
Songs
Soundtrack album track listing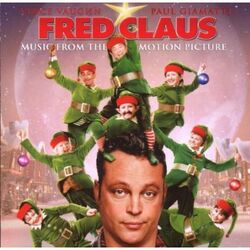 "Jingle Bells" - The Singing Dogs
"Santa Claus is Back in Town" - Elvis Presley
"Sleigh Ride" - The Ronettes
"Here Comes Santa Claus (Right Down Santa Claus Lane)" - Doris Day
"They Must Have Been A Good Way" - Christophe Beck
"I Want You For Christmas" - Russ Morgan and His Orchestra
"Santa Claus Is Coming To Town"
"Christmas Wrapping" - The Waitresses
"Silent Night"
"Auld Lang Syne" - Guy Lombardo and His Royal Canadians
"Somewhere Over The Rainbow/What A Wonderful World"
"The First Noel" - Leigh Nash
"God Rest Ye Merry Gentlemen" - Mark Turk with Matter Music, and Gaby Moreno
"Suite From Fred Claus" - Christophe Beck
Cast
Actor/actress
Character(s)
Vince Vaughn
Frederick "Fred" Claus
Paul Giamatti
Nick 'Santa' Claus
John Michael Higgins
Jorge Rodero (movements)
Willie
Miranda Richardson
Annette Claus
Rachel Weisz
Wanda Blinkowski
Kathy Bates
Mother Claus
Trevor Peacock
Papa Claus
Chris "Ludacris" Bridges
Michael Mbhele (movements)
DJ Donnie
Elizabeth Banks
Charlene
Jeremy Swift
Bob Elf
Elizabeth Berrington
Linda Elf
Kevin Spacey
Clyde
Rio Hackford
Leon
Bobb'e J. Thompson
Samuel 'Slam' Gibbons
Allan Corduner
Dr. Goldfarb
Jordon Hull (Age 6)
Liam James (Age 12
Young Fred
Theo Stevenson
Young Nick Age 6
Allison Sparrow
Girl with plasma TV
Fred Zimmerman
Caroler
Salvation Army Santas
Peter McCabe
Scary Thug
Jonathan Cullen
Guard
Wesley Chu
Bonsai Chef
Claudia Michelle Wallace
Guy Massey
Child Services Agents
Gabriel Pimentel Head
Hassan Chikhaoui
Vitalie Babara
Secret Service Elves
Morgane Monjauze
Molly Gordon
Caden Niewolny
Timmy Jackson
Angela Curran
Old Woman Elf
Celia Henebury
Girl Elf
Justin McEwen
Tyler Kelley
Dylan Minnette
Orphanage Kids
Anne White
Midwife
Patrick Zielinski
Cab Driver
William Dick
Group Leader
Frank Stallone
Roger Clinton
Stephen Baldwin
Jean-Yves Thual
Mission Control Elf
Burn Gorman
Orlando Seale
Charlie Condou
Tamara Aranovskaya
Natalia Avraimova
Irina Cheplyshkina
Shamil Galeev
Afiya Izmailova
Anton Khardarkevich
Zinaida Khardarkevich
Viktor Kharur
Zinaida Kharuk
Tatyana
Tatiana Lakhmytkina
Valentina
Vano Miranyan
Nadezda Miranova
Tetyana Moskalenko
Andriy Nagiyen
Firaya Nutfullia
Alexander Pavlov
Tatiana Pavlova
Antanina Satsura
Nadiia Shchava
Svetlana Shishkevich
Galina Shurygina
Irina Skripnichenko
Nina Sorokoletova
Victor Sovpenets
Veronika Starostina
Inna Sushkova
Mykola Yevdokymov
Alxsey Zalatin
Elves
Melody Hollis
Timmy Jackson's Sister
Mike Bacarella
Wanda's Neighbor
Bert Matias
Eskimo
Rusty Goffe
Elf
Frosty the Barman
Pete Bonner
Bonner Elf
Don Goodman
Ramona Giambalvo
Christ Kopoulos
Jeannette Francis
Patrick Morris
Money Donors
Douglas Colber
Debra Congram
Deanna Edgerson
Robert H. Frenier
Johanna K. Hauki
Beth Kondrat
Erich K. Kurschat
Anthony D. Potempa
Paul E. Reineck
Julie Simms
Singers
Tracy M. Snell (Mother)
Antinko Zanjelo Waddell (Father)
Kiara Allyce Greene (Sister
Sla'ms Adoptive Family
Uncredited
Jason Abustan
Tommy Bartlett
Michael Cook
Giota Trakas
Upscale shoppers
Alexander Almaguer
Boy
Lillian Almaguer
Girl
Amy Amir
Muslim Woman
Darlene Benigno
Chad Meyer
Chicagoians
Blayne Bennett
Happy Elf
John Biemeret
Repo Man
Suzy Brack
Megan Renee Burgess
Christopher James Casper
Evyenia Constantine
Jessica Doyle
Libby Pedersen
George Wood
Joshua Zumhagen
Shoppers
Leo McHugh Carroll
Giggling Boy
Julia Copeland
Thomas Kosik
Tim Krueger
Christmas Shoppers
Ethan Cutkosky
Carl
Rock De Augustine
Upscale Michigan Avenue Shopper
Jay Disney
Nick Ferrin
Marc Radz
Businessmen
Nick Doetsch
Celebrity Sibling
Mark Falvo
Amit Shah
Starbucks Customers
Ian Houghton
Clyde Northcutt
Shelby Howe
Toy Store Patron
Joseph Lazicki
Sibling Member
Rob Lok
Knife Juggler
Noelle Lynn
Holiday shopper
Joseph Mazurk
Background Santa
Abi McKenzie
Kid waiting to see Santa
Jeffrey Dean Morgan
Older man who gets parking ticket
Isabella Murad
Kid in toy store #3
William Nero Jr.
Child in line
Ernest Pierce
Stockbroker
Kevin Pitcairn
Navy officer
Christopher Popio
Cab driver
Michelle Shields
Mall Shopper
Spo
Shopping Family of Four
Ashland Thomas
Pizza restaurant patron
Phillip Tolley
Elf 39
Adrian Turika
Frat Boy
Max Zuppa
Kid #1
External links
Community content is available under
CC-BY-SA
unless otherwise noted.