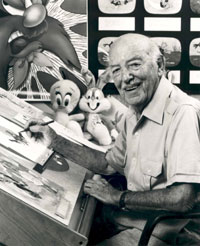 Isadore "Friz" Freleng (August 21, 1906 - May 26, 1995) was an American animator, cartoonist, director, producer, and composer best known for his work at Warner Bros. for the Looney Tunes shorts. Directing a total of 266 Looney Tunes shorts (more than any of the other directors), he created Sylvester the cat and Yosemite Sam, and also directed several acclaimed shorts starring Bugs Bunny, Daffy Duck, Porky Pig, Tweety, and Speedy Gonzales, including four Oscar-winning shorts. After the shutdown of the Warner Bros. cartoon studio in 1963, Freleng and his business partner David H. DePatie co-founded DFE Films, where they created The Pink Panther.
Christmas special Filmograohy
Crew
Animation
External links
Community content is available under
CC-BY-SA
unless otherwise noted.