Jurassic World: Dominion Dominates Fandom Wikis - The Loop
Play Sound
"Froggy Little Christmas" is a special Christmas episode of the Disney Channel animated series Amphibia, aired as the ninth episode of its third and final season. It includes a song from Steven Universe creator Rebecca Sugar.
Synopsis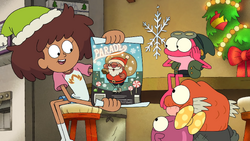 Christmastime has come to Los Angeles, and Mrs. Boonchuy is busy putting up decorations all over the house, much to the confusion of the Plantars. Anne tells Sprig, Polly, and Hop Pop that they're getting ready for Christmas, which she describes as one of Earth's biggest holidays. Before Anne can tell them more, though, Mrs. Boonchuy gets a phone call from the committee for the local Christmas-Palooza Parade. Anne explains that her mom has always wanted a float for the family's restaurant, Thai Go, in the parade, and it turns out that this year, the parade finally has an opening for them. However, Mrs. Boonchuy declines the offer; when Anne asks her why, she explains that it would draw too much attention to them and they want to keep the Plantars safe, especially since King Andrias is still looking for them. Anne seemingly concedes this, but after she and the Plantars have gone to her room, she makes a call to the parade committee, telling them she's changing her mother's "no" to a "yes". She explains to the Plantars that since her parents have made so many sacrifices for her, she's going to secretly build their restaurant's parade float and get it into the parade as a gift to them.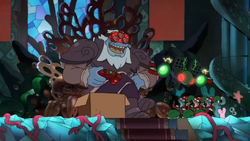 Meanwhile, in Amphibia, Bartley, Branson, and Blair report to King Andrias that his robot army is nearing completion. He notices that they're dressed as elves, which they explain is because it's late winter and therefore almost time for Christmas, which Marcy told them about. Andrias doesn't get it, but Triple B tell him it's fun and that they've even gotten him a present - a prototype for their new remote-controlled drone, which resembles a moth and comes with VR goggles that allow the wearer to see what it sees. Andrias decides to send the Drone Soldier to Earth and use it to destroy Anne, seeing how the Cloak-Bot failed to do so. First, though, he tests out the drone by firing its missiles at Triple B.
Back on Earth, Anne and the Plantars start going around town to gather everything they need for the float. Anne first needs some tech expertise, so per Polly's suggestion, they recruit the help of the I.T. Gals, Ally and Jess, to provide robots. While at Ally and Jess' residence, the Plantars, still confused about what Christmas is, ask the girls to explain it to them. When the IT Gals mention that on Christmas, one has to get a gift for someone they care about, Sprig finds himself pressured to get the perfect gift for Anne. The group's next stop is the Museum of Natural History to get decorations for the float. There, Dr. Jan allows Anne to borrow and use some of the mannequins and winter flowers from the museum's dioramas. While Anne starts gathering everything she needs, Hop Pop asks Dr. Jan to explain the origins of Christmas to him and his grandkids; the Plantars are soon overwhelmed by Jan's history lesson, with Hop Pop remarking that Christmas sounds a lot like Amphibia's own Swamp Hollow's Eve ("but without the ritual sacrifices"). Shortly after, as Anne is biking through town with a wagon full of borrowed mannequins, she and the Plantars don't notice the Drone Soldier appearing in the sky above.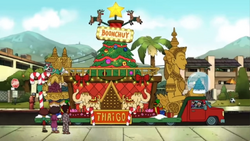 As the days pass, Anne and the Plantars, with the help of the IT Gals and the Thai community, work on assembling the float, all the while Sprig secretly tries to find or make a good present for Anne, and Mr. Boonchuy keeps attempting to take a photo for the family's Christmas card, which never come out right. The float is finished on Christmas Eve and Anne reveals it to her parents, even showing that no one will suspect they have anthropomorphic frogs on the float since Hop Pop is dressed as Santa Claus. Anne's parents are pleased that their daughter went to all this work and decide to join the parade.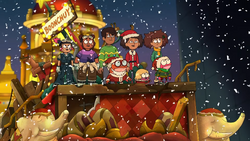 That evening, during the parade, Mrs. Boonchuy admits to her daughter that she and her husband have always had a hard time feeling like they fit in ever since they moved to Los Angeles, and making it into the parade really gives her the feeling they've finally succeeded. Anne admits that she knows what it's like feeling out of place after having spent months in Wartwood. Meanwhile, Andrias, who has been frustratingly trying to find Anne with the Drone Soldier, finally finds her drawing attention to herself on the float, and he uses the drone to inject nanites into a giant robotic Santa float in front of them. Andrias greets Anne through the now-evil giant Santa robot, letting her and the Plantars know that he's found them, and he has the robot chase their float through the streets of Los Angeles. Anne and the Plantars throw everything they have at the Santa bot, but nothing seems to do anything to it, except for the giant cookie prop. Right when Andrias has them cornered, Anne attaches the float's Christmas tree to a firecracker, and they blast it at the Santa bot, impaling it and the drone. Furious about this, Andrias angrily blames and destroys the drone's controller, as Darcy (Marcy's possessed form) mocks his failure from nearby. Nevertheless, Andrias vows that no one on Earth, including Anne, will stand in the way of his new army.
The Boonchuys and the Plantars return home, laughing off the events they just witnessed. Anne apologizes to her mother for the fact that her gift led to them almost getting killed, but Mrs. Boonchuy forgives her, saying her heart was in the right place. The Plantars finally learn from Anne and her mother that Christmas is about spending time with those you love, during which Mr. Boonchuy reveals that he finally managed to take a good photo of them. Sprig, now knowing that Christmas isn't about the gifts, admits to Anne that he was worried she wouldn't like his present for her - a small wooden figure of her he made because she is his hero. Fortunately, Anne loves the gift and thanks him, and they all heads inside for some cookies. Later that evening, Anne is sitting at the kitchen table writing a letter, saying to the recipient that their daughter is alive and that she intends to get her back. It is then revealed that she is writing these letters to Sasha's parents and Marcy's family.
Songs
Trivia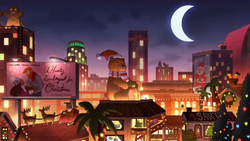 During the parade, there is a billboard that says "Wallmark Channel presents A Hunky Lumberjack for Christmas"; this is obviously a spoof of the Hallmark Channel and its annual large amount of romance-themed Christmas movies.
Cast
Gallery
External links