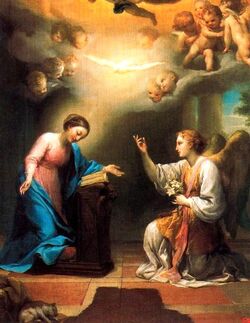 In Abrahamic religions, Gabriel (Hebrew: גַּבְרִיאֵל, Modern Gavri'el Tiberian Gaḇrî'ēl - the strength of God; Arabic: جبريل, Jibrīl or جبرائيل Jibrail) is an archangel who serves as a messenger from God. He first appears in the Book of Daniel, delivering explanations of Daniel's visions. In the Gospel of Luke, he foretold the births of both John the Baptist and of Jesus. Christians of the Catholic traditions refer to him as St. Gabriel the Archangel.
Islam believes that Gabriel was the medium through whom God revealed the Qur'an to Muhammad, and that he sent a message to most prophets, if not all, revealing their obligations. He is called the chief of the four favoured angels and the spirit of truth. He is called the created Holy Spirit (Islam) that spoke to Muhammad, which is not to be confused with the Holy Spirit of God in Christianity who is revered as God Himself. He is also mentioned in Bahá'í Faith texts, specifically in Bahá'u'lláh's mystical work Seven Valleys.
According to the Biblical verses which specifically refer to him, Gabriel is likened to a mortal male, but is sometimes portrayed as androgynous or female, as in some New Age beliefs or contemporary art imagery.
Community content is available under
CC-BY-SA
unless otherwise noted.