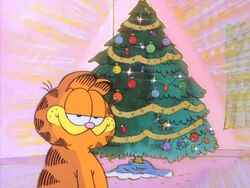 Garfield is the titular character of the newspaper comic strip Garfield, as well as the television shows and films based on it. He is a lazy, overweight, cynical orange cat who lives with his nerdy owner Jon Arbuckle and his dim-witted dog Odie. Born in the kitchen of Mama Leoni's Italian Restaurant in 1978, Garfield enjoys sleeping all the time and eating all the food he can get his hands on, especially lasagna.
Appearances in Christmas specials
A Garfield Christmas Special - In the first animated Christmas production to feature him, Garfield finds himself having to spend Christmas at Jon's family's farmhouse.
"Heatwave Holiday" - In this Christmas-themed segment from the second season of Garfield and Friends, Garfield manages to beat the July heat by using Jon's refrigerator to cover the backyard with snow and then convinces Jon to put up their Christmas decorations, resulting in the whole neighborhood mistakenly believing Christmas has come early.
"Caroling Capers" - The first Christmas-themed episode of The Garfield Show finds Garfield, unable to wait a few hours for the turkey dinner that Jon is making, going around town singing Christmas carols in hopes of being given food in response. This, however, proves to be a difficult task, since none of the people he sings to like his singing, and to make matters worse for him, Odie and Nermal start outshining him in the act. After several failed attempts to improve his singing voice, though, Garfield manages to get some food by using tin cans for drums as musical accompaniment to Odie and Nermal.
External links
This article about a character from either a Christmas movie, television episodic series or special with a Christmas theme is a stub. Please help to expand this article in the Christmas Specials Wiki.
Community content is available under
CC-BY-SA
unless otherwise noted.