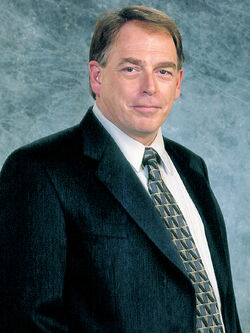 Garry Chalk (born February 17, 1952 in Southampton, England) is a British-Canadian actor, best known for playing as Inspector Andrew Pawlachuk on Cold Justice, Col. Chekov on Stargate SG-1, Sheriff Troy Davis on the Hallmark Channel series Cedar Cove and various guest roles in shows such as The Outer Limits, Highlander: The Series, The Dead Zone, Supernatural, and Arrow and appearances in movies such as The Journey of Natty Gann, Godzilla (2014), Tomorrowland, Power Rangers (2017), and Sonic the Hedgehog (2020). As a voice actor, he is known for voicing He-Man on The New Adventures of He-Man, Snagg on Conan the Adventurer, Optimus Primal on Beast Wars: Transformers, Grounder on Adventures of Sonic the Hedgehog, Dr. Robotnik on Sonic Underground, Mungus the Giant on Dragon Tales, Man-At-Arms on the 2002 reboot of He-Man and the Masters of the Universe, and Prince Rutherford on My Little Pony: Friendship is Magic.
Christmas special filmography
Animation
Live-action
External link
Community content is available under
CC-BY-SA
unless otherwise noted.