"Gingersnaps and Grumpy Snaps" is the first segment of the holiday-themed episode of the Disney animated series The 7D, based on the characters from the 1937 animated film Snow White and the Seven Dwarfs. It and its partner episode, "Jollybells", premiered on December 2, 2014 on Disney XD. The show's universe has its version of Christmas called Jolly Day as the setting for both segments.
Plot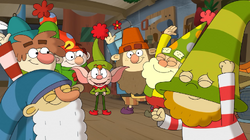 Jolly Day is approaching, and The 7D is feeling the holiday spirit. But their activities annoy Grumpy. To escape from it all, he went to an icy lake to fish with the goat Giselle. Suddenly, he hear cries for help from a person who's close to being drowned. Grumpy pulls him to safety and the person thanks him for saving his life. He then introduces himself as Gingersnaps the Pfeffeneusse elf, and because of Grumpy's unselfish act, Gingersnaps will be his servant per Pfeffeneusse tradition.
Grumpy brought along Gingersnaps to the The 7D's cottage, where they welcome him. The next morning, Gingersnaps serves Grumpy a nice breakfast and then he thought it's great to have him around. However, as time goes on, Grumpy is increasingly getting annoyed with the elf's frantic behavior and also because he's doing all the work Grumpy usually enjoys. After Gingersnaps nearly slips out the fact that elves will leave if they save the life of the person one serves, Doc hatches a plan based on his knowledge on elf traditions he learned while attending school years back.
While Grumpy goes out fishing with Gingersnaps, the rest of the 7D puts on with much difficulty a bear suit to stage an attack on Grumpy. But a real, live bear comes up on Grumpy and Gingersnaps at the lake. After the elf saves Grumpy from the bear, the 7D (still halfway inside the suit) appears, making Grumpy realizing that he had encountered a real bear. Grumpy thanks Gingersnaps and tells him to leave, but since Gingersnaps is a Pfeffeneusse elf, the arrangement is very tough to break because of his kind's traditions (Doc admits he was absent from school at the time). Back the cottage, Grumpy sadly gives Gingersnaps a cookie, and suddenly, Gingersnaps is no longer his servant (it appears that you need a cookie to end a Pfeffeneusse elf's servitude)! The elf thanks Grumpy and goes home; and while the 7D resumes their holiday joy, Grumpy goes upstairs and finds a present on his bed. Inside is a pair of ear muffs from Gingersnaps to drown out the 7D's joy, and as the episode ends, Grumpy admits he likes him after all.
Availability
Both segments of the episode are currently available digitally on Amazon and iTunes under the second volume of the first season of The 7D.
Gallery
Cast
External links