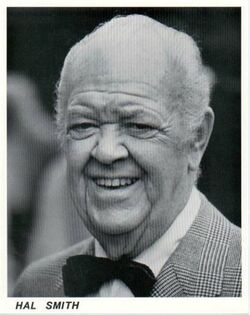 Harold John "Hal" Smith (August 24, 1916 – January 28, 1994) was an American actor whose voice was familiar in both radio and animation for many years. After serving in World War II, he appeared on many television shows such as The Andy Griffith Show, The Adventures of Ozzie and Harriet, and The Red Skelton Show. He also appeared occasionally in movies, such as Disney's Son of Flubber.
Smith was at his prime in animated voice-overs, however. Notable examples of characters voiced by Smith include Elmer Fudd (after Arthur Q. Bryan's death), Gyro Gearloose and Flintheart Glomgold in the original DuckTales, Goofy in several Disney productions like Mickey's Christmas Carol (prior to Bill Farmer becoming the character's official voice), Philippe the horse in Beauty and the Beast, Owl in the original Winnie the Pooh shorts (Smith also briefly voiced Pooh himself after Sterling Holloway retired, from 1983 to 1986), various characters on The Huckleberry Hound Show and The Flintstones, and of course, Santa Claus in several Christmas specials, most of which were produced by Hanna-Barbera.
Christmas filmography
Animation
Live-action
External links
Community content is available under
CC-BY-SA
unless otherwise noted.