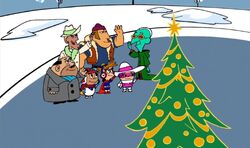 "Happy Holidays, Mr. Gruff" is the holiday-themed episode of the Disney animated television series Teamo Supremo.
Plot
Teamo's favorite action hero helps them combat the evil Mr. Alchemy.
Cast
This page about a Christmas special or an episode from a television series with a Christmas theme is a stub. Please help the Christmas Special Wiki by expanding this article.