"Have Yourself a Thornberry Little Christmas" is the Christmas episode of the Nickelodeon animated series The Wild Thornberrys.
Synopsis
Eliza goes to desperate measures to help animals survive during tough times along the Skeleton Coast. Her good-will intentions, however, will soon cost her family their entire supply of holiday cheer--and their Christmas dinner!
Availability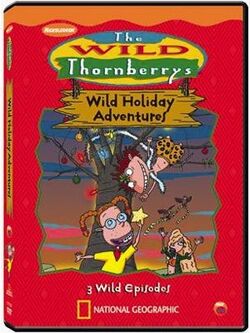 The episode made its home video debut on The Wild Thornberrys: A Thornberry Christmas VHS and The Wild Thornberrys: Wild Holiday Adventures DVD, both of which were sold exclusively by National Geographic in June 2004. The VHS also included the episode "On the Right Track", while the DVD featured it with the episodes "Happy Old Year" and "Family Tradition". The Christmas special was later included on The Wild Thornberrys: Season 2 manufacture-on-demand DVD set, sold exclusively on Amazon.com in 2010.
After Shout! Factory obtained the rights to release retail DVDs of the show, the episode was featured on the company's The Wild Thornberrys: Season Two, Part 2 DVD set, released on April 24, 2012. This DVD set was re-released as part of Shout!'s The Wild Thornberrys: The Complete Series box set on December 1, 2015.
Cast
External links
This page about a Christmas special or an episode from a television series with a Christmas theme is a stub. Please help the Christmas Special Wiki by expanding this article.