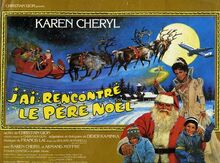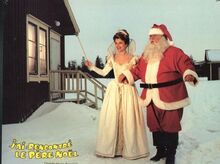 J'ai rencontré Le Père Noël (I Met Santa Claus) is a French Christmas movie that premiered on December 5, 1984. It was later released theatrically in English by New World Pictures as Here Comes Santa Claus, and then on DVD as I Believe in Santa Claus.
Summary
Holiday tale of a young boy asking Santa for his parents, mysteriously vanished during an African expedition, to return home for Christmas.
Cast
Actor/actress
Character(s)
Karen Chéryl
Good Fairy
Teacher
Armand Meffre
Le Père Noël
Santa Claus
Emeric Chapuis
Chris Davenport (voice)
Simon
Little Alexia
Elodie
Jeanne Herviale
Grandmother
Dominique Hulin
Ogre
Hélène Ruby
Mother
Jean-Louis Foulquier
Father
Baye Fall
Bouake

Véronique Passetchnik

Stephan Loison

Herve Schmitz

Little Nicolas
External links
This page about a Christmas movie is a stub. Please help The Christmas Special Wiki by expanding this article.
Community content is available under
CC-BY-SA
unless otherwise noted.