Line 4:
Line 4:
 
 
 

==Synopsis==

 

==Synopsis==

 
+

Chowder is worried that he might not get the gift he has his heart set on getting: an Electric Broccoli Trimmer with Detachable Non-Electric Cauliflower Trimmer for Knishmas, meanwhile Mung buys a schmingerbread house from Endive, due to the fact he is unable to make one. Chowder sees Mung buy the schmingerbread house.

−

{{spoiler}}

 
⚫

Chowder worries

he

won't receive the gift he

wants

on Knishmas, when he sees

Mung

Daal attempt to make a perfect Schmingerbread

house

and fail several times

.

Upon seeing this

,

he recruits

Panini

and Gorgonzola

to help him make

Knish

Kringle like Mung's house

. However,

the real Knish Krinkle comes and Chowder has to race to the schmingerbread house first in order to make Mung Daal happy. All the noise wakes Truffles up,

and she orders Mung to see what's going on. Mung is shocked at what he sees and asks Chowder why he ate the house.

 
 
 
 
⚫

he wants Mung house . , Paniniand Gorgonzola Knish . However,the real Knish Krinkle comes and Chowder has to race to the schmingerbread house first in order to make Mung Daal happy. All the noise wakes Truffles up,and she orders Mung to see what's going on. Mung is shocked at what he sees and asks Chowder why he ate the house.

−

Chowder ends up giving Gorgonzola a sweater, making him cry, saying "That's the nicest thing anyone's ever done for me." Chowder's present to Panini is a kiss to which her head blows away and fireworks appeared.

 
 
+
−

{{endspoiler}}

 
 
+

He explain to Mung that he couldn't let Mung feel awful and his pride destroy and saying how Knishmas wasn't about the getting, it was about the giving. Chowder's ends up giving Gorgonzola a sweater, Chowder's present to Panini is a kiss to which her head blows away and fireworks appeared.

 
 
 

==Cast==

 

==Cast==
---
Revision as of 18:53, 13 June 2014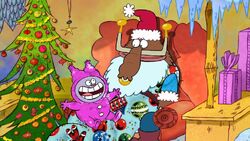 Hey, Hey It's Knishmas! is a special half-hour Christmas episode of the Cartoon Network original series Chowder. It premiered on said network on December 4, 2008.
Synopsis
Chowder is worried that he might not get the gift he has his heart set on getting: an Electric Broccoli Trimmer with Detachable Non-Electric Cauliflower Trimmer for Knishmas, meanwhile Mung buys a schmingerbread house from Endive, due to the fact he is unable to make one. Chowder sees Mung buy the schmingerbread house.
As a result,he is worried and wants to trick Mung into thinking his schmingerbread house was better. Chowder, Panini,and Gorgonzola dress up as Knish Krinkle. However,the real Knish Krinkle comes and Chowder has to race to the schmingerbread house first in order to make Mung Daal happy. All the noise wakes Truffles up,and she orders Mung to see what's going on. Mung is shocked at what he sees and asks Chowder why he ate the house.
He explain to Mung that he couldn't let Mung feel awful and his pride destroy and saying how Knishmas wasn't about the getting, it was about the giving. Chowder's ends up giving Gorgonzola a sweater, Chowder's present to Panini is a kiss to which her head blows away and fireworks appeared.
Cast
External links
This page about a Christmas special or an episode from a television series with a Christmas theme is a stub. Please help the Christmas Special Wiki by expanding this article.
Community content is available under
CC-BY-SA
unless otherwise noted.