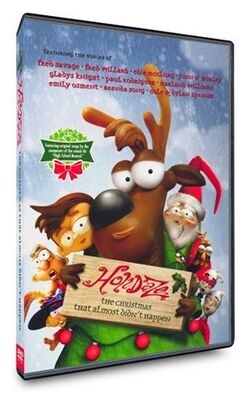 Holidaze: The Christmas That Almost Didn't Happen is a stop-motion animated Christmas direct-to-video movie that was originally premiered on October 30, 2006.
Synopsis
The story features Rusty Reindeer, the younger brother of Rudolph who wishes to find his place in Christmas rather than just be known as Rudolph's brother.
A few days before Christmas, Rusty leaves The North Pole and heads for The Big City where he joins a support group for depressed holiday icons, and together they search for the meaning of Christmas. Rusty's cohorts include Candie, the Easter Bunny, Mr. C (the grouchy cupid), and Albert the Thanksgiving turkey.
On Christmas Eve, after hearing that Santa's naughty and nice list hasn't been made due to a malfunction in the list's machine, Rusty has to return to The North Pole to make things right with help from a kid, who needs to meet Santa in order to be put on the nice list.
The adventure makes Rusty realize that he has found Christmas from within himself and he should help those who need help in believing in Christmas.
At the end of the film, Rusty finds his place in Christmas as Sleigh Traffic Controller.
Songs
Title
Writer(s)
Note

"One Day"
"Little Big Ears"
"Rusty"
"That's the Thing About Spring"
"Don't Ya Just Love Christmas"

David Lawrence
Faye Greenberg
"Open Up Your Eyes"
Ian Scott
Branda Song (performer)
Notes
At the start of the special, the narrator's voice is heard and the camera focuses on a snowman, making the viewer assume that it is the narrator. When the narrator is actually revealed to be a elf nearby, he laughs and says "Like snowmen can talk". This is a reference to the 1964 Rankin/Bass special Rudolph the Red-Nosed Reindeer which was narrated by Sam the Snowman.
Cast
External links
This page about a Christmas special or an episode from a television series with a Christmas theme is a stub. Please help the Christmas Special Wiki by expanding this article.
Community content is available under
CC-BY-SA
unless otherwise noted.