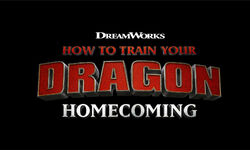 This article is about a future Christmas Special or episode of a television series with a Christmas theme. Information may change as the date of this program's airing nears.
How to Train Your Dragon: Homecoming is the upcoming TV special produced by DreamWorks Animation. It is the second Christmas special for the franchise, following 2011's Dreamworks Dragons: Gift of the Night Fury. It will premiere simultaneously on DVD and on NBC Primetime (on that night at 8:30 ET/PT) on December 3, 2019. It was directed by Tim Johnson and written by Jonathan Groff & Jon Pollack, who previously worked together on Kung Fu Panda Holiday.[1]
Summary
Taking place during the ending of How to Train Your Dragon: The Hidden World, a decade after the events of the movie's plot and before the emotional epilogue, the special opens with Hiccup and Toothless sharing stories of their special relationship with their respective families as they prepare for the Snoggletog Festival. When it becomes clear that the new generation of Vikings doesn't remember the bond between dragon and human, Hiccup makes a plan to celebrate dragons with a grand holiday pageant. This heartwarming idea leads to a series of hilarious and exciting events, but no matter the circumstance, everyone in New Berk – young and old alike – is reminded that dragons and humans are forever bonded.
Cast
Subject to change.
Home Media Releases
Both the DVD and Digital releases come packed with special bonus features, including an inside look at the animation test featuring the breakout stars of the holiday special, the baby dragons known as Night Lights.
Gallery
References
External link
See also
This page about a Christmas special or an episode from a television series with a Christmas theme is a stub. Please help the Christmas Special Wiki by expanding this article.
Community content is available under
CC-BY-SA
unless otherwise noted.