I Want a Dog for Christmas, Charlie Brown is the fourth and most recent Christmas television special based on the newspaper comic strip Peanuts. This hour-length special originally aired on ABC on December 9, 2003.
Synopsis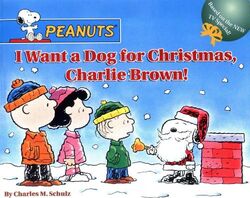 Having seen the relationship between Snoopy and Charlie Brown, Rerun van Pelt is desperate for a dog for Christmas; however, his mother and Lucy do not believe that he is ready for or capable of caring for one and they refuse. Frustrated, he asks Charlie Brown if he can play with Snoopy. While initially cooperative, Snoopy quickly tires of Rerun's idea of fun and games, and after a while he begins to snub him.
Instead, Snoopy commissions his brother, Spike, to make a trip to the Twin Cities. When he arrives, the Van Pelts are appalled to see his notoriously slender figure and take him in. After a short stay, Spike regains significant weight but ultimately decides to return to his home in the desert. That's when Rerun finally agrees with his mother and Lucy that dogs are too much trouble.
Availability
The special was first released to VHS and DVD by Paramount Home Entertainment on October 26, 2004. Paramount's DVD release also contained Charlie Brown's Christmas Tales and a documentary about the making of A Charlie Brown Christmas as bonus features. Warner Home Video later released it as a "Remastered Deluxe Edition" DVD on October 6, 2009. Instead of the bonus specials from the previous DVD, this one also included Happy New Year, Charlie Brown.
Cast
See also
External links
Community content is available under
CC-BY-SA
unless otherwise noted.