"

Manny: Oh, you... You are so grounded!
Peaches: Sorry, Daddy!
Manny: I'm talking to Sid!
Sid: Sorry, Daddy!

"

— Manny, Peaches & Sid
Ice Age: A Mammoth Christmas (also known as Ice Age: A Mammoth Christmas Special or simply as A Mammoth Christmas) is a Christmas television special, spun off from the Ice Age franchise, originally aired on FOX on Thanksgiving Day of 2011, followed by a DVD, Blu-ray, and digital release on November 26th of the same year.
Synopsis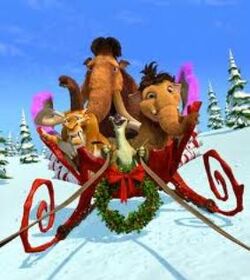 In the middle of decorating for the holiday season, Sid accidentally destroys Manny's favorite decorations. Sid is convinced by Manny that he's now on Santa's naughty list, and when Peaches overhears her dad believing Santa isn't real, she gets angry and tells Manny off, which doesn't affect him since he thinks that grown-ups don't believe in the naughty list.
Meanwhile, Sid takes off with Crash, Eddie, and Peaches for the North Pole to get back on the nice list and prove to Manny that Santa really is real.
When at the North Pole, the Sub-Zero Heroes accidentally destroy Santa's Workshop. When Manny, Ellie, and Diego are worried over Peaches' safety and come to the North Pole, they and the others must come together and save Christmas, along with Prancer and the rest of Santa's reindeer, who are Prancer's family.
Availability
Two days after its television debut, the special was made available on both DVD and Blu-ray. Both the DVD and Blu-ray contained a music video of "Swingin' Jingle Bells" as well as a sneak peek at Ice Age: Continental Drift.
Voice cast
Gallery
External links
REDIRECT Template:20th Century Studios
Community content is available under
CC-BY-SA
unless otherwise noted.