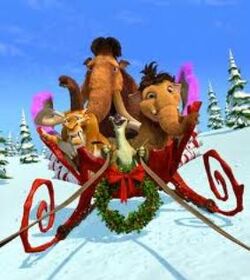 Ice Age: A Mammoth Christmas (also known as Ice Age: A Mammoth Christmas Special or simply as A Mammoth Christmas) is a Christmas television special, spun off from the Ice Age franchise, originally aired on FOX on Thanksgiving Day of 2011, followed by a DVD, Blu-ray, and digital release on November 26.
Synopsis
In the middle of decorating for the holiday season, Sid (John Leguizamo) accidentally destroys Manny (Ray Romano)'s favorite decorations. Sid is convinced by Manny that he's now on the Santa's naughty list, and when Peaches overhears her dad believing Santa isn't real, she gets angry and tells Manny off, which doesn't affect him since he thinks that grown-ups don't believe in the naughty list.
Meanwhile, Sid takes off with Crash (Seann William Scott), Eddie (Josh Peck), and Peaches (Ciara Bravo) for the North Pole to get back on the nice list and prove to Manny that Santa really is real.
When on the North Pole, the Sub-Zero Heroes accidentally destroy Santa's Workshop. When Manny, Ellie, and Diego are worried over Peaches' safety and come to the North Pole, they and the others must come together and save Christmas, along with Prancer (T. J. Miller) and the rest of Santa's reindeer.
Broadcast history and availability
Two days after its television debut, the special was made available on both DVD and Blu-ray.
Voice cast
| Voice actor | Character |
| --- | --- |
| Ray Romano | Manny |
| John Leguizamo | Sid |
| Denis Leary | Diego |
| Queen Latifah | Ellie |
| Seann William Scott | Crash |
| Josh Peck | Eddie |
| Ciara Bravo | Peaches |
| Chris Wedge | Scrat |
| Billy Gardell | Santa Claus |
| T. J. Miller | Prancer |
| Judah Friedlander | Head Mini-Sloth |
| Frank Welker | Animals' vocal effects (uncredited) |
External links
20th Century Studios
Television episodes and specials
Animated shows and specials
The Simpsons and Futurama
"Simpson Christmas" • "Simpsons Roasting on an Open Fire" • "Marge Be Not Proud" • "Miracle on Evergreen Terrace" • "Grift of the Magi" • "Xmas Story" • "Skinner's Sense of Snow" • "She of Little Faith" • "A Tale of Two Santas" • "'Tis the Fifteenth Season" • "Simpson Christmas Stories" • "Kill Gil, Volumes I & II" • "The Futurama Holiday Spectacular" • "The Fight Before Christmas" • "Holidays of Future Passed" • "White Christmas Blues" • "I Won't Be Home for Christmas • "The Nightmare After Krustmas" • "'Tis the 30th Season" • "Bobby, It's Cold Outside" • "The Way of The Dog" • "A Springfield Summer Christmas for Christmas"
King of the Hill
"The Unbearable Blindness of Laying" • "Pretty, Pretty Dresses" • "Hillennium" • "'Twas the Nut Before Christmas" • "The Father, the Son, and J.C." • "Livin' on Reds, Vitamin C and Propane" • "Ms. Wakefield"
Family Guy, American Dad!, and The Cleveland Show
"A Very Special Family Guy Freakin' Christmas" • "The Best Christmas Story Never" • "The Most Adequate Christmas Ever" • "Rapture's Delight" • "A Cleveland Brown Christmas" • "Road to the North Pole" • "For Whom the Sleigh Bell Tolls" • "Murray Christmas" • "Season's Beatings" • "Die Semi-Hard" • "Jesus, Mary and Joseph!" • "'Tis the Cleveland To Be Sorry" • "Minstrel Krampus" • "Christmas Guy" • "Dreaming of a White Porsche Christmas" • "The 2000-Year-Old Virgin" • "How the Griffin Stole Christmas" • "Ninety North, Zero West" • "Don't Be a Dickens At Christmas" • "Santa, Schmanta" • "Christmas is Coming"
Bob's Burgers
"God Rest Ye Merry Gentle-Mannequins" • "Christmas in the Car" • "Father of the Bob" • "Nice-Capades" • "The Last Gingerbread House on the Left" • "The Bleakening" • "Better Off Sled" • "Have Yourself a Maily Linda Christmas" • "Yachty or Nice"
Other cartoons
"Hook's Christmas" • "A Christmas Surprise for Mrs. Stillman" • Olive, the Other Reindeer • Ice Age: A Mammoth Christmas • "Miracle on Culpepper Slims Boulevard"
Community content is available under
CC-BY-SA
unless otherwise noted.