Wiki Targeted (Entertainment)
Play Sound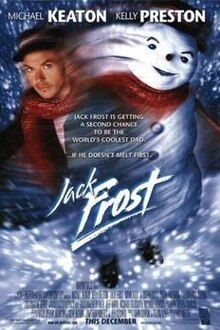 "
I will always hear you.
"

— Jack Frost's last line as a human
Jack Frost (working title: Frost) is a 1998 Christmas-themed movie, starring Michael Keaton and Kelly Preston, that was released in theaters on December 11, 1998, as part of Warner Bros.' year-long 75th Anniversary event.
Synopsis
This page about a Christmas special or an episode from a television series with a Christmas theme is in need of a longer synopsis. You can help the Christmas Special Wiki by expanding this synopsis.
Jack Frost is a man who lives with his wife, Gabby, and son, Charlie. He runs a band and thus is forced to miss many events in his son's life, but promises to be home for Christmas Eve. His band is scheduled for an audition that day, but midway along the trip they change their minds to be with their respective families. Jack tries to race home to make it in time. However, on his way back, he dies in a car accident due to a faulty windshield wiper.
A year later, Jack's spirit returns as Charlie's (Joseph Cross) snowman, and decides to make up for all the times he missed with his son like doing things like sledding away from bullies, or teaching him the J-shot. In the end, Jack is forced to flee with his son to a cabin to stay cold, and thus alive. Gabby (Kelly Preston) arrives, and realizes that her husband has returned. Dawn and Christmas Day arrive, and Jack becomes human once more to say goodbye before returning to the afterlife.
A Year later, Charlie is playing hockey with friends (including Rory Buck, who has finally became friends with Charlie) as Gabby happily watches and Jack's old friend, Mac (now Charlie's stepfather), plays music on the piano.
Music
Songs
* - Appears in the Mercury Records Soundtrack Album
Home video releases
Cast
Actor(s)/actress(es)
Character(s)
Michael Keaton
Jack Frost
Denise Cheshire
Bruce Lanoil
Jack Frost
(in-suit performers)
Kelly Preston
Gabby Frost
Joseph Cross
Charlie Frost
Mark Addy
Mac MacArthur
Andy Lawrence
Tuck Gronic
Eli Marienthal
Spencer
Will Rothhaar
Dennis
Mika Boorem*
Natalie
Benjamin Brock
Alexander
Taylor Handley
Rory Buck
Joe Rokicki
Mitch
Cameron Ferre
Pudge
Ahmet Zappa
Snowplow driver
Paul F. Tompkins
Audience member
Henry Rollins
Sid Gronic
Dweezil Zappa
John Kaplan
Steve Giannelli
Referee
Jay Johnston
TV weatherman
Jeff Cesario
Radio announcer
Scott Thomson
Dennis' dad
Googy Gress
Spencer's dad
Scott Kraft
Natalie's dad
Jimmy Michaels
Devil's goalie
Ajai Sanders
Interviewer
John Ennis
Truck driver
Wayne Federman
Policeman Dave
Pat Brown
Scorekeeper
Mr. Chips (Dog)
Chester
The Jack Frost Band
Trevor Rabin (composer)
Lead guitar
Lili Haydn
Violin
Louis Molino III
Drummer
Scott Colomby
Bass
Credited/Uncredited
Golden Henning
Nakia Hurried
Bank customers
Uncredited
Mike Butters
Devil's coach
Carmi Greene
Patron
Rich Knight
Clubgoer
Jazzie Mahannah
Featured
Rusty Nelson
Moon Unit Zappa
Schoolteachers
Jennifer Robertson
Brooke
Uncredited (Archive Footage)
Stevie Ray Vaughan
Himself
"Couldn't Stand the Weather"
Bob & David
Themselves
Mr. Show with Bob and David
* - Nominated for the 1999 YoungStar Award for Best Actress
Gallery
External links
Community content is available under
CC-BY-SA
unless otherwise noted.