Wiki Targeted (Entertainment)
Play Sound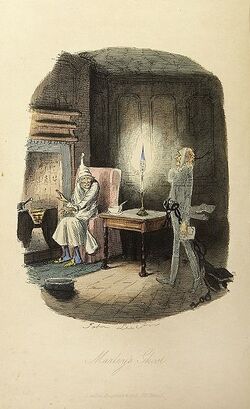 Jacob Marley (8 March 1783 - 24 December, 1836) is a fictional character who appears in the Charles Dickens novel, A Christmas Carol.
Relationship with Scrooge
In life, Marley was the business partner of Ebenezer Scrooge. As teenagers, both men had been apprenticed in business and met as clerks (presumably in accounting) in another business. The firm of Scrooge and Marley was a nineteenth century financial institution, probably a counting house, as Marley refers to their offices as 'our money-changing hole'. They have become successful bankers, with seats on the London Stock Exchange; they are also stockholders and directors of at least one major association, but a vast amount of their wealth has been accumulated through usurious moneylending. Scrooge is described as Marley's "sole executor, his sole administrator, his sole assign, his sole residuary legatee, his sole friend, and sole mourner". He has been dead seven years by the time the story begins.
The Haunting of Ebenezer Scrooge
Jacob Marley preys upon Scrooge's mind in a variety of different ways. First, his face appears in place of Scrooge's door-knocker as Scrooge approaches his lodgings; secondly, Scrooge gets the impression of a "locomotive hearse" ascending the stairs before him as he climbs; thirdly by making his face appear to engulf the whole design of the fireplace in Scrooge's bedroom; next by making every bell in the house ring of its own accord and then, most famously, by appearing before Scrooge in the form of a ghost himself.
The ghost maintains the same voice, hairstyle and sense of dress that he had in life, but is completely transparent, wearing a handkerchief tied about his jaws, and "captive, bound and double-ironed" with chains which are described as "long, and wound about him like a tail; it was made... of cash-boxes, keys, padlocks, ledgers, deeds, and heavy purses wrought in steel." He often, in moments of great despair or impatience at Scrooge's skepticism, flings these upon the ground before him and almost induces his former partner "into a swoon". He explains that it is the chain he subconsciously built himself in life, as a result of his extortionate behaviour. The ghost is also described as being provided with "an infernal atmosphere of its own... its hair and skirts, and tassels, were still agitated as by the hot vapour from an oven". He despairs at his inability to ever find happiness in the mortal world or the next. As he spent his life on this earth obsessing over money and mistreating the poor and wretched to fill his pocket, Marley is damned to walk the earth for all eternity, never to find rest or peace.
At first Scrooge does not believe that Marley's ghost is real, and a mere figment of his imagination. When the spectre asks, "Why do you doubt your senses?" Scrooge scoffs that "...a little thing affects them. A slight disorder of the stomach makes them cheats. You may be an undigested bit of beef, a blot of mustard, a crumb of cheese, a fragment of an underdone potato. There's more of gravy than of grave about you, whatever you are!" Later, more pointedly he says, "Humbug, I tell you! Humbug!" Marley's only reply is a spine-chilling howl that brings Scrooge to his knees, begging for mercy. Satisfied, after explaining his situation and the reasons for it, Marley delivers his message of the three hauntings that will help redeem Scrooge of the same punishment, he then flies out of the window in the company of other restless souls, all of them chained in a similar manner to himself, and all of them suffering the same incessant torture.
Analysis
The life and afterlife of Jacob Marley is not detailed in A Christmas Carol. The reader has no idea exactly how Marley escaped with an arrangement for Scrooge's redemption. Even he himself appears uncertain as to how he is visible to Scrooge "on this night", when he has followed him, invisible, on "many and many a day". One interpretation has been offered in the prequel novel, Marley's Ghost (2000) by Mark Hazard Osmun, an imagining of Marley's life and subsequent sacrifice on behalf of his former partner.
However, various adaptations of A Christmas Carol have made various differences to Marley. In A Christmas Carol, for example, his birth-date is given as 1785, and in Mickey's Christmas Carol, it is said that Marley left very little in the way of a fortune, so he was instead buried at sea. In that same film, he was implied to be a ruthless criminal as well, "robbing the widows and swindling the poor", all in the same day and his punishment of being "forced to carry his heavy chains for eternity" was a result of it.
Portrayals
Picture
Feature
Year
Performer
Notes

Scrooge, or, Marley's Ghost
1902
unknown

A Christmas Carol
1908
unknown

Scrooge
1951
Michael Hordern

Kraft Television Theatre: "A Christmas Carol
1952
Richard Purdy

Mister Magoo's Christmas Carol
1962
Royal Dano

Famous Classic Tales: A Christmas Carol
1969
Bruce Montague
Scrooge
1970
Alec Guinness
Marley is given an extra scene near the end where he escorts Scrooge down into his grave before Scrooge wakes up.
A Christmas Carol
1971
Michael Hordern
The Stingiest Man in Town
1978
Theodore Bikel
A Christmas Carol
1982
unknown
Mickey's Christmas Carol
1983
Goofy (voiced by Hal Smith)

A Christmas Carol (1984)
1984
Frank Finlay
Scrooge hears Marley's ghost from a spectral hearse that is pulled by two spectral horses while returning home from working at his office.
The Jetsons: "A Jetson Christmas Carol"
1985
Mel Blanc
This version of the character is called Marsley.
The Real Ghostbusters: "Xmas Marks the Spot"
1986
Maurice LaMarche
Scrooged
1988
Jamie Farr
The character of Lew Hayward (played by John Forsythe) acts as a Jacob Marley analogue to Frank Cross within the main plot.
The Muppet Christmas Carol
1992
Statler and Waldorf (pupeteered by Jerry Nelson & Dave Goelz)
The character is portrayed as two brothers named Jacob and Robert Marley (a nod to Bob Marley) so that they can be played by Statler and Waldorf. They sing the number "Marley and Marley" where they lament their suffering and warn Scrooge of what he will face.
Animaniacs: "A Christmas Plotz"
1993
Slappy Squirrel (voiced by Sherri Stoner)
Slappy shows up as a ghost, telling Thaddeus Plotz that she is here because "the studio keeps giving me these stupid cameos."
A Flintstones' Christmas Carol
1994
Mr. Slate (voiced by John Stephenson)
This version of the character is called Jacob Marbley.
Ebbie
1995
Jeffrey DeMunn
DeMunn plays Marley's modern version, Jake Marley, Elizabeth "Ebbie" Scrooge's mentor and later partner who dies of a heart attack right in front of her.
A Beavis and Butt-head Christmas
1995
Butt-head (voiced by Mike Judge)
Butt-head plays the role of Jacob Marley and appears while Beavis is trying to watch a Christmas Carol style porno.
A Christmas Carol
1997
Ed Asner
Ms. Scrooge
1997
Katherine Helmond
Helmond portrays a female version named Maude Marley.
101 Dalmatians: "A Christmas Cruella"
1997
Horace and Jasper Badun
Cruella De Vil's henchmen appear as a two-headed ghost.
An All Dogs Christmas Carol
1998
Charlie Barkin (voiced by Steven Weber)
Charlie as the role of Jacob Marley as known as Jacob Charlie.
Sabrina: The Animated Series: "Witchmas Carole"
1999
Salem Saberhagen
Adventures from the Book of Virtues: "A Christmas Carol"
2000
Plato the Buffalo (voiced by Christopher Judge)
A Diva's Christmas Carol
2000
Rozonda Thomas
Rozonda Thomas portrays a female version named Marli Jacob.
Christmas Carol: The Movie
2001
Nicolas Cage
A Carol Christmas
2003
Dinah Manoff
The Jacob Marley character is a stage mother-type aunt of Carol's, named Aunt Marla.
A Christmas Carol: The Musical
2004
Jason Alexander
Foster's Home for Imaginary Friends: "A Lost Claus"
2005
Bloo (voiced by Keith Ferguson)
When Bloo tries using A Christmas Carol to scare Mr. Herriman into buying more gifts for those at Foster's, he mixes up Jacob Marley with Jamaican reggae musician Bob Marley.
Bah, Humduck! A Looney Tunes Christmas
2006
Sylvester (voiced by Joe Alaskey)
Sylvester was a superstore CEO idolized by Daffy and serving as an inspiration to him. He was killed by being squashed with a forklift nine times.
A Christmas Carol
2006
The character is portrayed as an anthropomorphic cricket (ala Jiminy Cricket). In this adaptation, he is given an extra scene where Scrooge's redemption frees him from his punishment.
An American Carol
2008
Chriss Anglin
The role of Marley is taken by the spirit of John F. Kennedy.
A Christmas Carol
2009
Gary Oldman
La CQ: "Christmas in the CQ"
2012
Clara

Thomas & Friends: "Diesel's Ghostly Christmas"
2015
Emily
(voiced by Teresa Gallagher (UK)/Jules de Jongh (US))
Emily is held and surrounded by chains, uses Thomas' steam to make herself look ghostly, and goes by the name of "E-Marley's Ghost".

Camp Lakebottom: "Smells Like the Holidays"
2016
Gretchen
McGee's guilt for framing Squirt takes a spiritual form similar to Gretchen. At first, McGee thinks she playing a joke on him, until she reveals that the real Gretchen is still sleeping.

My Little Pony: Friendship is Magic: "A Hearth's Warming Tail"
2016
Applejack
(voiced by Ashleigh Ball)
Applejack's role is also the Spirit of Hearth's Warming Past, the counterpart of the The Ghost of Christmas Past. Originally Discord had a role as a traditional Jacob Marley, but it was cut for time.

Be Cool, Scooby-Doo!: "Scroogey Doo"
2017
Mr. Bugly
In an awkward turn of events, when Marley arrives, Scrooge just scolds him about how rude he's being by coming without knocking. During this, Bugly first hypnotizes Scrooge with the coin's reflection in a nearby mirror, making Scrooge hallucinate the "scarier" Marley.

The Man Who Invented Christmas
2017
Donald Sumpter
Jacob Marley appears as Charles Dickens creates the story of A Christmas Carol, scaring Scrooge and telling Dickens he's more like Scrooge than he thinks, and is girded with his own chains.

A Christmas Carol
2019
Stephen Graham
Unknown
Trivia
In 1963, President John F. Kennedy quoted Marley in his speech about businesses in America, saying "Humanity was my business."
In 1993, Aimee Mann released a song called "Jacob Marley's Chain" on her album Whatever.
Marley's grave - covered in chains - can be briefly seen in one scene from the 1994 film The Pagemaster.
In the 1998 episode of Sports Night entitled "Thespis", Jacob Marley is referenced and compared to Thespis of ancient Greece, when the show's production appears to be haunted by the ghost.
In 2008, Nightwish's single, "Bye Bye Beautiful", a reference to Jacob's ghost is made due to the problems that lead the band to fire their former singer, Tarja Turunen.
Marley's Ghost is the name of a Northern California band extant since the early 1990s whose diverse musical styles are principally focused on bluegrass, country, and folk.
Jacob Marley's Ghost is an esoteric music group from the late 1990s which originated in Eugene, Oregon. Once led by Ezra Holbrook, the band now seems to be "defunct".
In the Babylon 5 episode "Exogenesis", Marcus makes reference to Marley while quoting Dickens.
In the short story "Adaptation", by Connie Willis, Marley's ghost appears as a stand-in for the Ghost of Christmas Past (who has become corrupted by the increasing commercialisation of Christmas and retired to Florida).
The 1999 TV movie adaptation opens with a prologue of Scrooge attending Marley's funeral at a rural churchyard.
In "A McNally's Christmas Story" he is mentioned by Aidan Johnson.
Community content is available under
CC-BY-SA
unless otherwise noted.