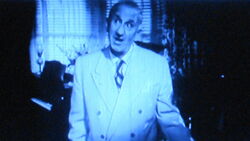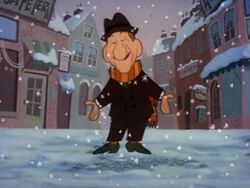 James Francis "Jimmy" Durante (February 10, 1893 - January 29, 1980) was an actor and musician in the early to late 20th century, noted for many roles, songs, and comedy routines, and well-loved Christmas classics in various media. A veteran staple of vaudeville, comedy, slapstick and early television, Jimmy Durante was active in children's charities, many of which he supported without a cent of reimbursement. Born with a large nose, Durante made it the centerpiece of his humor and offbeat, irreverent wit, calling himself "The Great Schnozola". His voice and manner left no doubt of his origins in New York City.
Christmas career
The Great Rupert, also known as A Christmas Wish, featured Durante in classic form, often playing foil and straight man to a stop-motion squirrel (animated by Sci-Fi FX great George Pal) who is aiding two families in financial dire straits.
An animated caricature of Durante, voiced by himself, appeared as the narrator in Frosty the Snowman, in which he also sang the original song. It was notably the only time Durante ever provided a voice role in an animated film. Prior to the special, though, Durante had recorded another version of the song, which featured him relating the story of Frosty to a young child who calls him "Uncle Jimmy", and also implies that he and Frosty are close personal friends. This version of the song contained a pre-song intro and breaks in the narrative in Durante's method and style.
Community content is available under
CC-BY-SA
unless otherwise noted.