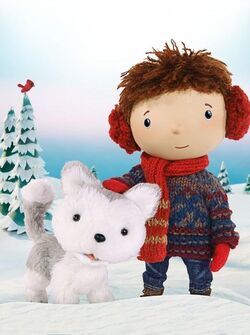 Jingle All the Way is a half-hour animated Christmas special, starring the Hallmark plush toy and storybook character Jingle the Husky Pup, that premiered on Hallmark Channel on November 25, 2011, during the channel's third annual Countdown to Christmas event.
Summary
This page about a Christmas special or an episode from a television series with a Christmas theme is in need of a longer synopsis. You can help the Christmas Special Wiki by expanding this synopsis.
Jingle, a spirited Husky puppy looking for a home at a Christmas tree farm, instantly bonds with a young boy visiting with his parents. As the boy rides away, unable to keep him, the pup escapes and embarks on a snowy journey to find his friend again. Guided by a wise cardinal and the sound of jingling bells, he eventually receives the help he needs from a big man in a red suit just in time for Christmas morning.
Availability
A DVD of the special was released as part of a gift set sold exclusively at Target; the gift set also consisted of a stuffed doll of Jingle, a storybook, and a read-along CD.
Cast
Voice actor/actress
Character(s)
Thomas Stroppel
Jingle
Ryan Bley
Andrew
Chad Darrow
Narrator
Santa
Morgan Elizabeth Cox
Mother
Nathan Dunkin
Dad
Jonathan Lipow
Animal Control Officer
Pamela Chollet
Mrs. Hibbert
Teacher
Allison Cohen
Sarah
Brian Finnerty
Cardinal
Lindsey Newlands
Jennifer
Nicholas Marjarian
Kevin
Croix Kyles
Jonathan
Gregg Victor
Tree salesman
Lara Cody
Nasally kid
Gallery
See also
External links
Community content is available under
CC-BY-SA
unless otherwise noted.