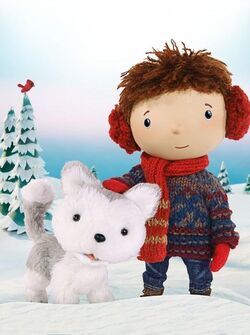 Jingle All the Way is a half-hour animated Christmas special starring the Hallmark plush toy and storybook character Jingle the Husky Pup. It premiered on the Hallmark Channel on November 25, 2011.
Synopsis
Jingle, a spirited Husky puppy looking for a home at a Christmas tree farm, instantly bonds with a young boy visiting with his parents. As the boy rides away, unable to keep him, the pup escapes and embarks on a snowy journey to find his friend again. Guided by a wise cardinal and the sound of jingling bells, he eventually receives the help he needs from a big man in a red suit just in time for Christmas morning.
Availability
A DVD of the special was released as part of a gift set sold exclusively at Target; the gift set also consisted of a stuffed doll of Jingle, a storybook, and a read-along CD.
Cast
| Voice actor | Character |
| --- | --- |
| Chad Darrow | Narrator |
| Ryan Bley | Andrew |
| Jonathan Lipow | Dogcatcher |
| Allison Cohen | Sarah |
| Brian Finnerty | Cardinal |
| Lara Cody | Nasally kid |
| Morgan Elizabeth Cox | Mother |
| Nathan Dunkin | Dad |
| Croix Kyles | Jonathan |
| Nicholas Marjarian | Kevin |
| Lindsey Newlands | Jennifer |
| Thomas Stroppel | Jingle |
| Gregg Victor | Tree salesman |
See also
External links
Community content is available under
CC-BY-SA
unless otherwise noted.