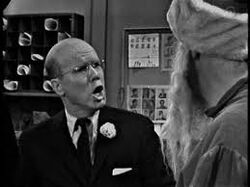 John Fiedler (1925-2005) was an American character actor, with many roles in film and television. He has had several noteworthy appearances in Christmas-related media. His specialty was playing nervous, nebbishy uptight, often officious characters, though for the most part very well-meaning.
Although he was the main voice of Piglet in Disney's adaptations of Winnie the Pooh, the only Christmas specials in which he provided the character's voice were Winnie the Pooh and Christmas Too and the new animation produced for the compilation film A Very Merry Pooh Year.
In the first Christmas episode of the 1960's sitcom That Girl, "Christmas and the Hard-Luck Kid", he played school headmaster Mr. Merriman, who, while sympathetic to the main characters' plight, enforces the rules that drive the episode's premise.
In the Christmas episode of the original Twilight Zone, "Night of the Meek", he played the department store manager Mister Dundee, suspicious of Art Carney's department store Santa Claus as the story's supernatural events unfold.
One of his most memorable roles was as the hen-pecked Mister Petersen, one of Doctor Bob Hartley's group therapy patients on The Bob Newhart Show. He appeared directly in two of the show's Christmas episodes, including "His Busiest Season" and "Twas the Pie Before Christmas". Like all of Bob's patients, friends, family, and Bob himself, the holidays often seemed to exacerbate the feelings that drove him into therapy.
Fiedler also appeared in the short-lived 1980's sitcom Buffalo Bill, starring Dabney Coleman. As common for his characters, Fiedler's Woody Deschler had his nerves pushed by Coleman's egotistical talk-show host, including in the show's Christmas episode, "Have Yourself a Degrading Little Christmas".
Community content is available under
CC-BY-SA
unless otherwise noted.