Johnny Bravo is the title character of the Cartoon Network original series of the same name. He is a muscular blonde man who lives with his mother, Bunny, and is always trying to win the affections of every woman he meets, often to no avail.
Appearances in Christmas specials
Johnny Bravo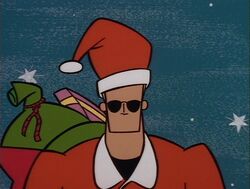 In the series' first Christmas episode "Twas the Night", Johnny hears a noise on his rooftop and goes outside to investigate. He finds Santa Claus and, mistaking him for a burglar, knocks him out. When Johnny realizes his mistake, Santa gives him the task of filling in for him. After Johnny finishes the job, he finds that Santa has left him a pair of boxing gloves and a mouth guard, along with a note saying that "round two is next year."
In the series' second Christmas special, A Johnny Bravo Christmas (which takes place a year later), Johnny finds out on the day before Christmas that he has forgotten to mail his and his mother's letters to Santa. Since all the post offices can't get letters sent to Santa on time now, Johnny, accompanied by his young neighbor Suzy, travels all the way to the North Pole to bring the letters to Santa. When he finally arrives and Santa reads the letters, Johnny finds out that his mom was asking for presents for him, and tells Santa to give his (Johnny's) presents to his mom. After Johnny makes it back to Aron City, Suzy spreads the word about Johnny's good deed, and they all throw a Christmas party at his house.
Other Christmas productions
Johnny also prominently appeared alongside his fellow Cartoon Network stars in A Very Cartoon Cartoon Fridays Holiday Special. In one segment, he shows off his impression of Hermey from Rudolph the Red-Nosed Reindeer to Dexter and Chicken. Another segment, parodying a scene from A Christmas Story, had Johnny being dared by Dexter to stick his tongue on the TV monitors and then getting his tongue stuck to said monitors.
Community content is available under
CC-BY-SA
unless otherwise noted.